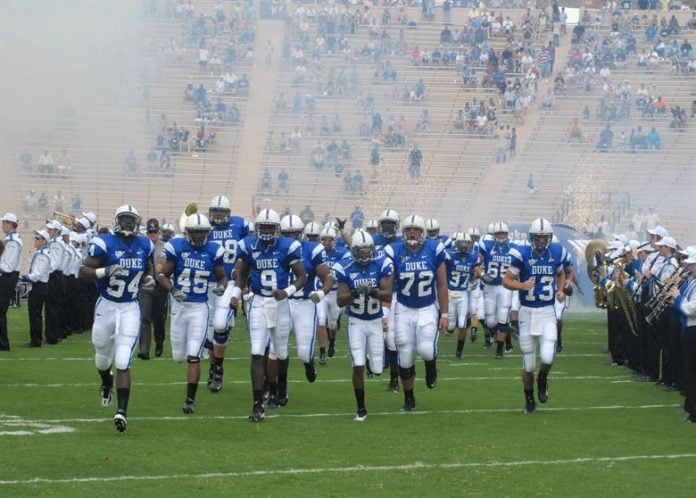 The Virginia Cavaliers (4-2, 2-1 ACC, 2-3-1 ATS) host the Duke Blue Devils (4-2, 2-1 ACC, 3-2-1 ATS) on Saturday at 3:30 p.m. ET. The home team opened as 3-½ point favorites and that number has remained the same.
Duke is taking 57% of the action. The total opened at 47 and is already as low as 45-½ points at some sportsbooks. These teams met one year ago with Virginia scoring a 28-14 victory over Duke.
Against the spread
Virginia is on a three game losing streak ATS. Duke pushed last week, lost the week before that, but was on a three game winning streak prior to those games. The total has gone over in five consecutive Duke football games while it has alternated between over and under in Virginia's last six contests.
The total has dropped because neither of these teams are offensive powerhouses. Duke averages 387.5 yards and 34.5 PPG, but every team they have played minus Alabama has been a stumblebum. So while those numbers seem OK, they've produced them against very bad teams.
Virginia is even worse at 357.5 yards per game in total offense to go along with 28.3 PPG. Their schedule has been a little harder than Duke's, but not by much. It isn't out of the question for them to score 21 or fewer points in this game.
Stellar defenses
Virginia has the 11th best defense in total yards allowed. They're giving up 273.3 yards per game and a very respectable 20.7 PPG. The Cavaliers really shine against the run and are allowing just 90 yards per game. Taking care of business against a team like Duke, especially at home, should be in their wheelhouse.
Duke can play a little defense, too. They are giving up 345.8 yards game, which seems high, but they're holding opponents to 23.2 PPG. If they are able to stymie Virginia's offense then chances are we won't see much scoring in this game.
What happened last week?
Duke enters this game on the heels of 41-23 win against Georgia Tech. They have won four of their last five games and should be feeling confident. Virginia lost 17-9 on the road against Miami last week and were defeated 35-20 by Notre Dame before that. They had been on a four-game winning streak to start the season before incuring those losses.
Senior QB Quentin Harris does it all for Duke. He has completed 115 of 181 passing attempts for 1,183 yards, 11 TDs and 4 INTs thus far in 2019. Harris is also dangerous scrambling, rushing for 380 yards and 5 TDs on 83 attempts. His longest run of the season in 63 yards.
Sophomore RB Wayne Taulapapa was silent in consecutive losses for Virginia, but so was his entire team. Before that, in a win against Florida State, he ran 18 times for 53 yards and three TDs. Virginia likes to throw the ball, but if they can get to the red zone look for them to hand the ball to Taulapapa.