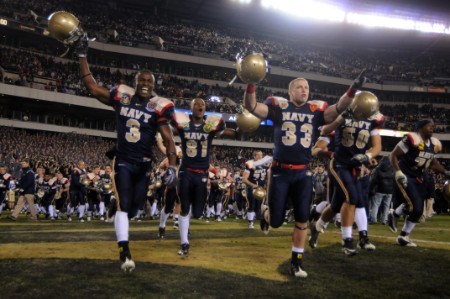 Navy will host American Athletic Conference rival East Carolina at 3:30 p.m. ET on Saturday. The forecast calls for a game time temperature of 85 degrees and a 25% chance of rain as of Monday afternoon.
The Midshipmen opened as 7 point favorites over the Pirates and some sportsbooks have already moved them to 7.5. Early wagering favors East Carolina to the tune of 68%.
Both Teams Walloped Stumblebums Last Week
How do you make East Carolina look like Alabama? Easy! You line them up against an FCS team like the Runnin' Bulldogs from Gardner-Webb who the Pirates smashed last week. East Carolina scored early and often while accumulating 574 yards in total offense before the clock ticked down to zero with the final score showing 48-9.
Dual threat QB Holton Ahlers led the way going 18/29 for 195 yards, 1 TD and 1 INT while adding 10 carries for 78 yards and 2 additional TDs.
Navy performed a similar act against the Holy Cross Crusaders, producing 531 yards in total offense, 428 of it on the ground, en route to a 45-7 victory. It was an evenly distributed effort and there isn't "one guy" to watch for on Navy.
Four different players rushed for at least fifty yards and two of them went for more than ninety. Other teams know what to expect from the Navy offense; lots of rushing! They have the personnel to do so all game without fatiguing.
Revamped Navy defense could spell trouble for ECU
Head coach Ken Niumatalolo decided it was time for Navy to get with the times and hired defensive coordinator Ken Newburry to implement a new defensive scheme that will be effective against the spread offense.
East Carolina's shotgun spread presents an interesting challenge for the Midshipmen. The key to the game could be focusing on and shutting down Holton Ahlers. If they can do so successfully this game might turn into a route.
Porous ECU Run Defense Might Struggle
It's no secret what the teams from the academies will do on offense. They don't hurry up and lots of time ticks off the clock as they grind away at opponents with a steady rushing attack.
The Pirates faced North Carolina State in week 1 and the results were not good against the run. They allowed the Wolfpack to gain 191 yards on 31 carries for an average gain of 6.2 yard per carry. They will need to cut that number by more than half to have a chance at winning this football game.
ECU will be one of the first teams to get a look at the revamped Navy offense that focuses, even if only slightly more, on the passing game. Last year, they ranked last in the FBS in passing offense at a mere 72.8 yards per game. Their season opener against Holy Cross saw them gain 103 yards through the air. Chances are they didn't "open up" the playbook in that game and as such we might see some new things from them in this game.
Tough game to handicap due to the fact that we are only two games in and both teams have a knew offensive scheme.
That said, we know Navy was the better team last year simply by comparing the results vs. common opponents. We also know Navy has been historically better, at least recently, winning 66-31 in 2016 and 45-21 in 2015.
Lastly, our score prediction model has Navy winning by double digits. While we don't put much emphasis in the model this early, it's still worth noting.
Our Pick – Navy -7