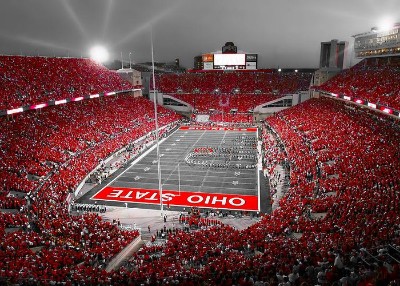 Ohio State opens their season at home as a 27.5 point betting favorite hosting Florida Atlantic. While almost 75% of the bets taken have come in on the Buckeyes, more money has been wagered on FAU.
Last season Ohio State went 13-1 and while they lost some star players, mainly QB Dwayne Haskins and DE Nick Bosa, they are still loaded. Justin Fields takes over under center after transferring from Georgia and even as a backup last season he has some Heisman buzz this season.
Last season the Buckeyes were only 7-7 ATS, but they covered in their last three games including their bowl win over Washington.
Buckeyes are Stacked
While Haskins is gone Fields has a ton of upside, J.K. Dobbins (1,053 yards 10 TD last season) and Mike Weber are back as the two lead RB's, and K.J. Hill leads a solid WR corps. Last season the Buckeyes ranked 2nd in the nation averaging a whopping 535.6 yards per game, so FAU's defense has their work cut out for them.
Chase Young (9.5 sacks) returns for the OSU defense and while the pass defense should be great there are concerns against the run. Still, can the Owls take advantage of that without a star in their backfield?
FAU Looks to Bounce Back
After a solid first season at the helm of FAU, Lane Kiffin and the Owls were a disappointment last season finishing 5-7 and failing to make a bowl game.
Chris Robison is back under center after a decent 2018 campaign and he may be unseated by former Florida State QB Deondre Francois. Former Alabama RB BJ Emmons may be the lead back since there is not much experience in the backfield, but they have a legit WR corps and TE Harrison Bryant is one of the best in Conference USA.
The Owls only ranked 88th in the nation in overall defense last season and did not rank I the top 79 in the nation in run or pass defense.
The defense for FAU has experience and they did not lose too many key players, but that D will be tested in this game for sure. Last season in the Owls only game facing a team from a major conference in Oklahoma, in their season opener, they gave up 63 points.
The Owls were only 4-8 ATS last season and while they did cover the spread in their last two road games that was facing North Texas and Florida International, which are obviously not college football powerhouses like Ohio State is.
Our Prediction
These days, there are countless ways to wager on any one football game. You can bet the 1st quarter, 1st half, 2nd half, full game and of course you have live betting.
In a spot game like this, you are looking at a huge difference in class. If you find reasons to back Florida Atlantic, you should strongly consider backing them in the 1st quarter or 1st half. FAU will surely be pumped and thrilled with the opportunity. They'll give the Buckeyes their best shot.
But as the game goes on, the difference in class and depth should be too much for Florida Atlantic.
77-31, 49-21 and 77-10 are the scores of the last three Ohio State openers and that came against Oregon State, Indiana and Bowling Green. Urban Meyer may be gone, but traditions remain.
Had this game been played last season, we would have had the buckeyes favored by 35 points. Nothing has changed on either squad to make that margin any different this year.
We're pretty confident this line will be more than -28 when kickoff rolls around, so best to play this one early.
Our Pick: Ohio State -27.5