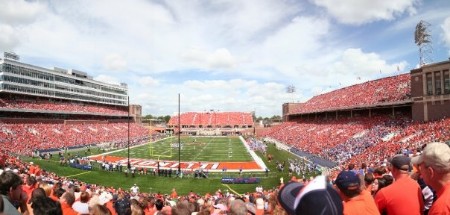 Illinois hosts Akron in week 1 college football betting action with the Illini favored by 16.5. The majority of the wagers taken as of mid August have been overwhelmingly on Illinois.
The Fighting Illiini were only 5-7 ATS last season, but they did cover the spread in two of their first three games facing non-conference opponents.
Akron was just like Illinois, as they were 4-8 on the season and after a promising 2-0 start, they lost 8 of 10 games after. Can the Zips pull off an upset of a power conference team? They are getting 16.5 points and most of the money has been on Illinois, who were 15.5-point favorites when the odds were first posted.
Can Illinois Turn Things Around?
Illinois has not played in a bowl in five seasons and the QB position is an issue. M.J. Rivers II transferred and a few guys such as Matt Robinson and duel-threat QB Isiah Williams are in the mix to start under center.
One good thing for Illinois is that Reggie Corbin returns and he rushed for 1,085 yards last season and will face an Akron run D that was not good last season.
The WR corps is thin with leading wideout Ricky Smalling (33 receptions) the most experienced player, but the team is high on freshman Marquez Beason, who is also an elite defender.
The Fighting Illini only ranked 113th in the nation last season on defense and head coach Lovie Smith named himself the defensive coordinator. A few legit transfers came in, but the pass D is still an issue.
Can the System Work?
Akron has a new head coach in Tom Arth and he is instituting his "System", which is supposed to raise a player's football IQ and bring the team together.
QB Kato Nelson had an injury marred 2018 season, but still passed for over 2,500 yards with 18 TD and 8 INT and also rushed for over 300 yards. Andre Williams (46 rec, 649 yards and 6 TD last season) and Ohio State transfer Jeremiah Knight lead the WR corps, but the run game is a concern with Nelson the leading rusher coming back.
The Akron defense ranked a solid 27th in the nation last season against the pass but only 99th against the run. Alvin Davis is a star in the secondary and Josh Ward (33 tackles 4 sacks last season) anchors the line that may have issues again against the run.
Last season Akron did beat a team from the Big 10 in a 39-34 win over Northwestern.
Our Prediction
 Illinois is 2-5 ATS in their last seven games and are only 3-10 ATS in their last 13 games facing teams from the MAC.
The Zips have some talent on both sides of the ball, but the run game and the run defense are concerns. Still, look for Nelson to have a good game against a Illinois defense that has issues of their own.
Both of these teams have problems and are desperate to improve. This is a dangerous spot of the Illini. Consider giving Akron a look in the 1st quarter and the 1st half plus the points.
We're likely to see +17 or better by game time. In which case, we'd also consider Akron for the game.
Akron + 1st quarter
Akron + 1st half
Akron +17 or better for the game.
You can read our Akron season preview here
You can read our Illinois season preview here