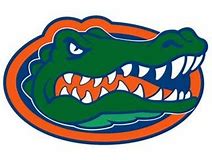 Florida somewhat surpassed expectations in Dan Mullen's first season reaching 10 wins, so to surpass expectations again, it likely has to win the SEC East.
That seems like a long bet, but the Gators should be better offensively with another year of Feleipe Franks and from there, anything can happen as long as the defense picks up where it left last season.
They have the seventh-best odds at +350 (at 5Dimes Sportsbook) to make the College Football Playoff, better than LSU out of the SEC West.
Top Receivers Back Led by Van Jefferson
Franks did what was asked of him in his second year at the helm, leading the offense to 35 points per game with 31 touchdowns (24 passing) and only six interceptions. There's a decent chance he improves those numbers with most of the top receivers back led by Van Jefferson (503 yards), Josh Hammond and Trevon Grimes.
It also helps to have Lamical Perine (826 yards, 7 TDs) in the backfield after averaging 6.2 yards per carry last year with Dameon Pierce and Malik Davis set to split backup duty. Tight end is a bit of a question and it doesn't help that four new starters are expected on the line. There's some experience and talent, but that may take a few games to get going. The hope is that an improved Franks should balance the offense and keep it going from last season.
Defense Looks to Replicate Success of Last Season
The biggest thing for the Gators will be for the defense to replicate what they did last year, allowing just 20.4 points per game, dominating late wins over FSU and Michigan. The loss of Jachai Polite and Chauncey Gardner-Johnson is huge, but it's not like there aren't players to step in.
Jonathan Greenard could be a menace in the SEC after racking up seven sacks in 2017 at Louisville. The line had a good spring with Adam Shuler and Kyree Campbell in the trenches, though some of that had to do with a new offensive group.
The secondary looks a tad different with Amari Burney moving from safety to linebacker, but with experienced options taking his spot and guys like Trey Dean and Marco Wilson at corner, they'll be fine.
Winning 10 Games Like Last Season Looks Doubtful
To improve on last year's 10 wins, the Gators can't let games against the likes of Kentucky and Missouri slip away, especially now that those are on the road.
They should get a good start against Miami, but a couple weeks later, a trip to Kentucky needs to be a win. That's because things get a little difficult at the beginning of October with a home game against Auburn followed by trips to LSU and South Carolina, and then Georgia at a neutral site.
Reaching nine wins in the regular season won't be easy for Florida since that mid-season stretch could easily result in three losses by itself. To hit nine again, that means winning at UK and Mizzou, as well as against Miami and FSU to start and close the season.
Franks should be better with another offseason under his belt, but if the offensive line or defense takes a step back, that could result in fewer wins in Mullen's second season.
2019 Florida Gators Football Schedule
Aug. 24 vs. Miami (Camping World Stadium, Orlando)
Sept. 7 vs. UT Martin
Sept. 14 at Kentucky
Sept. 21 vs. Tennessee
Sept. 28 vs. Towson
Oct. 5 vs. Auburn
Oct. 12 at LSU
Oct. 19 at South Carolina
Nov. 2 vs. Georgia (TIAA Bank Field, Jacksonville)
Nov. 9 vs. Vanderbilt
Nov. 16 at Missouri
Nov. 30 vs. Florida State