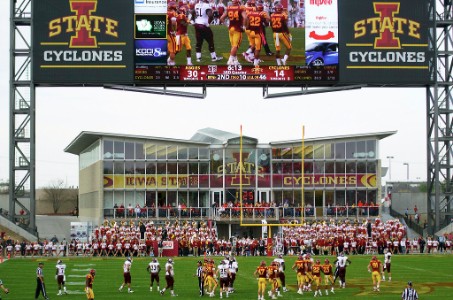 Iowa is favored by -2.5 on the road at Iowa State in week 3 college football betting action. The current posted total is 44.5 at 5 dimes sportsbook.
There's nothing like playing for a trophy that was donated by the Iowa Corn Growers Association. This matchup has been a battle throughout the decade even though Iowa has the advantage and has won the last four. 
The verdict is still out on this Iowa State team after it needed three overtimes to beat Northern Iowa in its only game. Sure, UNI is good for a FCS team, but the Cyclones were ranked in the AP Poll going into that game and no longer are after that result.
Looking at the numbers, UNI didn't really do much to get to overtime. It averaged 1.1 yards per carry and had a couple longer passes to go with a defensive touchdown and that was it. The problem for ISU is that its offense never really got going and that's a problem in this matchup.
Over or Under?
The last four meetings in Ames have hit the over or pushed, while the last five in Iowa City have hit the under. Going with that trend, it's time for the over, but it's hard to agree with that looking at the numbers.
Both teams have a bigger focus on the defensive side and prefer to run the ball. Iowa won this matchup 13-3 last year with that same strategy. While the Hawkeyes managed just 2.9 yards per carry in the win, it was two yards more per carry than the Cyclones and that was enough.
Getting more of a ground game going will be ISU's goal and that's a hard thing to bank on. They went with a trio in the first game between Johnnie Lang, Sheldon Croney and Breece Hall, and that did fine, but it was Northern Iowa.
Cyclones Hopes Ride with Purdy
The best chance the Cyclones have of winning this game starts with quarterback Brock Purdy, who wasn't the starter in last year's matchup. He revived the offense last year and while that didn't show up in the opener, he still completed 30-of-41 passes.
Iowa probably has the better quarterback in Nate Stanley and the better rushing attack in Mekhi Sargent and Toren Young. This isn't an elite offense, but the Hawkeyes know how to get the job done.
If needed, Stanley has the tools and experience to air it out, but that likely won't happen in this game. Once again, they'll lean on Sargent and company and hope Stanley can convert a few third downs to keep the chains moving. That's how last year's game went and it was enough to win by 10 points.
Another Low Scoring Affair?
According to the numbers, this should be another low-scoring game with both teams struggling to hit 20 points.
Both quarterbacks have the ability to put points on the board. Purdy was asked numerous times to lead the offense to totals over 30 points in the Big 12, while Stanley has shown he can do the same with 26 passing touchdowns each of the last two years.
The over has hit in Iowa's last eight road games and Iowa State has failed to cover in its last five in non-conference play. The under is 10-3-1 in the last 14 meetings between these schools, but the three overs and push all came in Ames.
Our model has Iowa by 6 to 9 points and historically, Iowa has been the way to go with a historical average score in this series of 27-18. With the spot at just -2.5, we'll side with the model and history.
Our Pick – Iowa -2.5