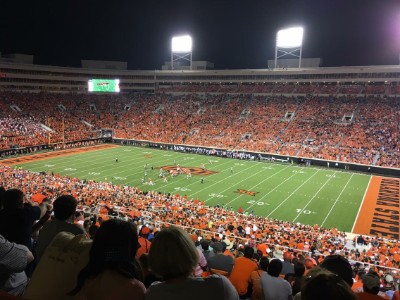 Oklahoma State hosts Kansas State in this weeks college football betting action as -4 point favorites with a total of 60 at 5 dimes sportsbook.
Oklahoma State is coming off a close 36-30 loss to Texas, where they battled all the way up to the last minute. Freshman QB Spencer Sanders put on a show Saturday night, showing his full arsenal of skills, led by his quick feet and ability to extend plays.
He had over 100 yards rushing and 268 yards passing with 3 total touchdowns, but showed on multiple occasions that teams will need two men to bring him down. He was able to slide out of several tackles throughout the night to make big play after big play.
No. 24 vs. No. 25
Kansas State, now ranked 24th in the country is 3-0 on the season, after beating a tough Mississippi State team on the road last week.
The Wildcats are a run heavy offense, but it was quarterback Skylar Thompson who threw his only touchdown of the day, with under six minutes remaining to take the lead at 31-24 which ultimately was the final score. 
Kansas State is a run first team, averaging 280 yards per game. Leading the way in the backfield is senior running back James Gilbert, with 277 yards and 3 touchdowns through three games.
Cowboys Balanced
While Oklahoma State is a more balanced offense, they do love to run as well, with Chuba Hubbard already amassing 642 yards rushing, with two monster games of over 200 yards already this season to go along with 9 touchdowns. 
Oklahoma State is ranked 25th in the country with over 78 plays per game, they are a fast tempo team who loves to snap the ball while the defense has not lined up yet.
Kansas State is ranked 99th in the country with only 66 plays per game, they prefer a knock out drag out fight, while OSU is a quick strike offense.
Kansas State's defense has been a real strong point this season, holding teams to an average of 12.7 points per game.
Time of Possession Key
If Kansas State can control the time of possession and cause a few turnovers by the Cowboys young QB, that will give them their best chance as I can't picture Skylar Thompson being able to get into a shootout at Stillwater Saturday night.
Oklahoma State was the heavy 9 point favorite in last year's matchup, but came away with the 31-12 loss. This week OSU is a 4 point favorite as the home team.
Our Pick – 3 of the last 4 in this series have been decided by 6 points or less, so, close games the norm.
The verdict is still out on Kansas State as we can't tell a heck of a lot from wins over Bowling Green and Nicholls St, though the Miss State win gets some credit.
History says this one likely decided late.
Kansas State +4.5