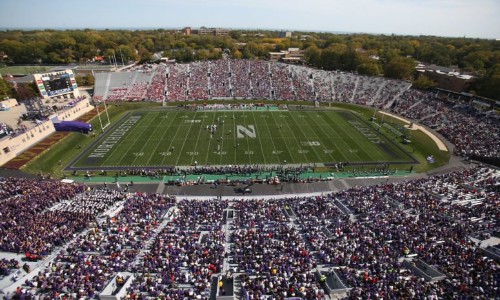 If you don't like offense, this is the game to watch despite what has happened in recent games. Michigan State, coming off a 10-7 loss, opened as a -6.5 road favorite against Northwestern. However, as of Monday night, that line was pushed to -10 with an over/under of 39.5.
This spread is a bit interesting for a number of reasons. In addition to the over hitting the last three meetings (it was never above 43 points), the Wildcats have won the last three, all as an underdog.
Given how Michigan State's offense looked last week, there's likely to be a lot of money on the home team with a lot of outright upset plays. Of course, there are also reasons to take the Spartans.
Northwestern Rushed for Only 8 Yards in 2018
Seen in last year's game, Northwestern only won because Clayton Thorson threw for 373 yards and three touchdowns. They ran for just eight yards with sacks included and will likely have similar troubles again.
The Spartans had more total yards, but the Wildcats were better at converting yards into points. Even though MSU struggled offensively last year, Brian Lewerke still threw for 329 yards. The problem was that they couldn't get touchdowns and that's exactly what happened against Arizona State.
MSU moved the ball enough to win last week, but after a couple missed field goals, it wasn't meant to be and the offense only put up seven points. Given that result, it's hard to see this team winning by more than seven on the road against a good team.
Is this the Week Spartans Offense Explodes?
That said, the Spartans have plenty of talent and Lewerke looks better than a year ago, completing 63.6% of his passes on 7.4 yards per attempt. Those aren't amazing numbers, but better than they were a season ago.
Throw in the early success of freshman running back Elijah Collins (281 yards, 6.4 ypc) and they have the tools to be a decent offense, especially with wideouts Darrell Stewart and Cody White being two of the more reliable options in the conference. 
Scoring will be possible for MSU because while Northwestern's defense hasn't allowed many points, it hasn't looked overly dominant.
It didn't have to face Stanford's starting quarterback for the second half in the opener and then let UNLV run for 5.8 yards per carry last game. There are flaws in the defense and those could come to light if MSU learns how to get the ball in the end zone.
QB Johnson is No Clayton Thorson
The problem for Northwestern is that new quarterback Hunter Johnson is not Clayton Thorson. The Clemson transfer has just 220 passing yards, one touchdown and three interceptions on 5.2 yards per attempt. Even in the win against UNLV, he couldn't complete 50% of his passes.
The Wildcats rode their ground game in that win and that probably won't work against this defense. Drake Anderson and company ran wild against UNLV, but up against one of the best run defenses in the country, things will be different, and there's a reason Northwestern ran for eight yards in last year's meeting. 
There's a decent chance Northwestern struggles to reach 10 points. If Lewerke can figure out a way to get touchdowns, MSU has the better overall team, which is why the spread is where it's at.
The under is 4-0 in MSU's last four games following a loss and it's 5-1 in Northwestern's last six conference games. The road team is 13-2 ATS in the last 15 meetings between these teams.
Value Now with Northwestern
Sometimes lines move so far that value is created, that perhaps wasn't there on one side with the opener. That's the case here as Michigan State opened at -6.5 and has moved all the way to -10.
When that happens, there's only one way to look as a bettor. In this case, that means you look at the Northwestern side or you pass the game.
You simply can't get in the habit of laying -10 on games where you could have had -6.5. Those are habits of a losing bettor, regardless of what the final outcome is with this game.
That said, our number is less than a TD in favor of the Spartans, so we'll go ahead and take the generous spot with Northwestern.
Northwestern +10