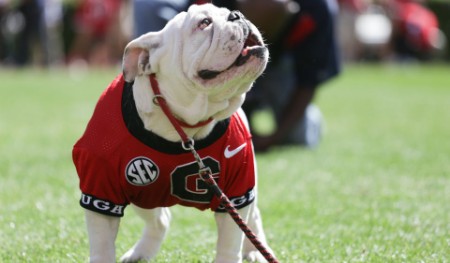 Like almost clockwork, it's November and Georgia is in first place in the SEC East. It hasn't been pretty, but Georgia beat Florida last week and has the tiebreaker in that matchup, which could come in handy with an upcoming trip to Auburn. The Bulldogs aren't expected to have any problems in this game as -16.5 point home favorites with an over/under of 48 against Missouri.
The Tigers have covered the last four meetings between these teams, yet the last two have been covered by a combined four points. Either way, they usually put up a fight in this matchup and that was the case last year.
Even though Georgia had no problems en route to 43 points, Missouri ran for 172 yards and battled its way to 29 points of its own. That'll be the quest in this one because things haven't been great for the Tigers, scoring 21 points in their last two games against Vandy and Kentucky.
Considering those are two of the worst teams in the conference, that's not a good look and it doesn't help that Georgia still has an elite defense, allowing 77.6 rushing yards and 11.4 points per game.
Missouri needs to get back on track, but this probably isn't the matchup to do it. Running back Larry Rountree is averaging 6.0 yards per carry, but has 27 rushes for 87 yards the last two games and there's no reason to think he can do better against this defensive front.
The other bad news is that quarterback Kelly Bryant is dealing with a hamstring injury and may not be at 100 percent. Even if he plays, his numbers have also been bad against better defenses and they could get worse in this matchup.
The one thing going for Missouri in recent games is its defense, which is allowing 281.4 yards and 18.1 points per contest. Dive a little further and those numbers maybe aren't all that impressive given the schedule, though the South Carolina win is at least worth mentioning because that's Georgia's lone loss. 
Anything can happen like in that South Carolina game, but Georgia is better at every level in this matchup. The Bulldogs should have no problems moving the chains behind D'Andre Swift, who is averaging 6.2 yards per carry and that includes a mediocre 3.4 ypc against Florida last week.
He'll get his yards no matter what, while Jake Fromm will do the rest. Fromm is rarely asked to do anything, but he came through against the Gators, averaging 9.3 yards per attempt for two touchdowns against a good defense. As long as he doesn't have interception issues again, this offense should put up 30 points without much resistance. 
Every sign points to Georgia, but that's been said numerous times this season and it's a mediocre 4-4 ATS, including 1-4 ATS at home. Missouri has failed to cover its last four road games and the under is 6-1 in its last seven overall.
Georgia has failed to cover its last four following an ATS win and it also has a few random under trends. The Tigers have covered the last four meetings between these teams and the over is 5-2 in the last seven.
Our Pick – Georgia -16