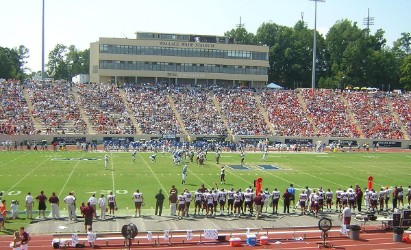 #15 Notre Dame squeaked by last week with a last second victory when QB Ian Book ran 7 yards into the end zone with 29 seconds left to narrowly win 21-20. Book had an up and down game, he finished with 341 passing yards and 3 total touchdowns, but also 2 interceptions. 
It was a good bounce back game after losing to Michigan the week prior, it showed the team wasn't willing to give up on the season after their chances of making the 4 team playoff are next to zero.
Duke is looking to get back on the winning side of things, after two straight losses putting them with a record of 4-4. They are going to need to finish strong if they want to go to a bowl game, starting this week against the Fighting Irish.
Duke is a one man show this season, as they rely heavily on duel threat quarterback Quentin Harris. He has 1,500 yards passing to go along with 400 yards rushing and 19 total touchdowns. Duke's offense is fairly balanced, as they average 197 passing and 166 rushing.
Jalon Calhoun leads them at wide receiver this year with 37 catches for 294 yards and 3 scores, while Deon Jackson leads them in rushing with nearly 500 yards and 5 touchdowns thus far.
Notre Dame on the other hand is much more pass heavy, as they average 255 yards through the air and 160 on the ground. Chase Claypool is their star wide receiver with 37 catches for 554 yards and 4 touchdowns. 
Senior QB Ian Book is the clear leader of this team; as he led them on the 18 play 87 yard game winning drive that had two fourth down conversions. Book is also a skilled runner as he had 50 yards rushing against Virginia Tech.
The Irish will have a tough matchup this week as they come into Durham for a night game, the student section will be loud and this could be a trap game for the Irish. They will be 8 point road favorites, and looking for revenge as Duke beat them in 2016 in a high scoring 38-35 game.
The over under is 51.5, which seems low as both teams average 30 points per game. 
Our Pick – Duke +8