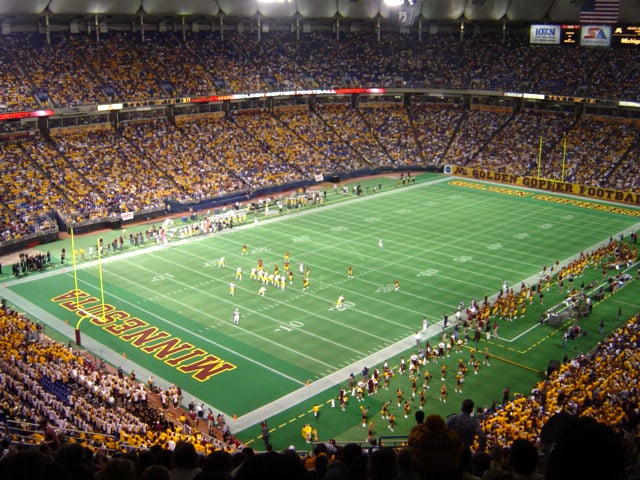 In a different week, this would be the biggest game of the weekend. However, since Alabama and LSU are on the slate, Penn State and Minnesota will be the lesser talked about matchup between two undefeated teams. Despite the records, the Nittany Lions were -7 point road favorites with an over/under of 47.5 as of Tuesday.
Minnesota is undefeated, but still isn't getting a ton of respect as seen in the spread. The only team it has beaten in Big Ten play with a winning record is Illinois, which says something about the conference.
Otherwise, the Golden Gophers barely won their three non-conference games against mediocre competition. The same could've been said about Penn State, but it has won its last three games against Iowa, Michigan and Michigan State.
In like opponents, Penn State beat Maryland 59-0 and Purdue 35-7, while Minnesota just beat Maryland 52-10 and Purdue 38-31 in its first conference game.
The defensive numbers have been impressive for the Golden Gophers, but it's hard to ignore how shaky they were earlier in the season when they allowed 35 points to Fresno State. They've come around, but there are still questions and the 283.8 yards allowed per game has to be taken with a grain of salt because of schedule.
That said, it's not like the Nittany Lions have blown away better teams, failing to score more than 28 points in their last three. Sean Clifford has no doubt been impressive in his first year as a starter, averaging 8.9 yards per attempt with 20 touchdowns and three interceptions, but he hasn't completed more than 56.3% of his passes in the last three games.
That's led to a few more carries for Clifford, as well as running backs Journey Brown and Noah Cain. At the least, this offense has scored enough against better defenses and that's about all you can ask.
The other side is just as intriguing of a matchup because Penn State is allowing less than 70 rushing yards and less than 10 points per game. Of course, schedule has to be taken into account, as well, because despite their last three opponents being formidable, none of them have above average offenses. While Minnesota hasn't exactly played a good defense, its offense has done enough.
The Gophers are riding running back Rodney Smith to every win as he's averaging 5.8 yards per carry and has gone for at least 100 yards in each of the last five games. If he doesn't have the same kind of running lanes against a better defense, it will be up to Tanner Morgan to do the rest.
While he has fine numbers, averaging 10.2 yards per attempt for 18 touchdowns and four picks, he isn't a major focal point in the offense. Even with Minnesota dominating, he's completed less than 58% of his passes in three of the last four games. Now against a vastly better defense, it'll be hard for him to have the same kind of success.
A lot of the numbers point to the Nittany Lions because they've actually played a few good teams. 
The under is 4-0 in Penn State's last four road games and 7-1 in its last eight in conference play. Minnesota has covered its last five games overall. The Nittany Lions are 4-1-2 ATS in the last seven meetings between these teams, but that dates back to 2004 (they last played in 2016).
Our Pick – Penn State -6.5