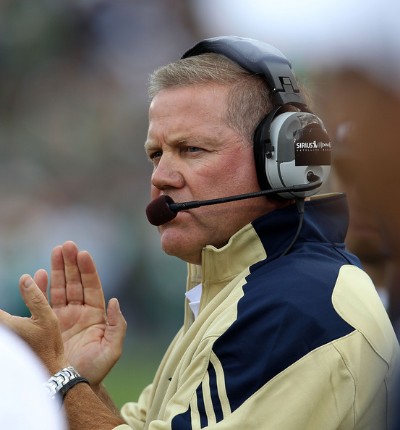 After facing a couple ranked teams, Notre Dame gets a bit of a break with Bowling Green, who has had some major issues in the early season. The Fighting Irish were up to a -45.5 point favorite with an over/under of 60.5 early in the week at betonline.
The only reason not to take Notre Dame in this spot is because it's kind of a bye week for them. This matchup comes after Georgia and Virginia and before USC and Michigan.
Sure, the Irish will get a true bye week following the USC game, but it wouldn't be surprising if a lot of backups were playing as early as the third quarter. Then again, that may not matter because Bowling Green just lost by 42 points to Kent State. 
Notre Dame should do whatever it wants offensively behind Ian Book and Tony Jones. Book doesn't have outstanding passing numbers, but he's still averaging 8.3 yards per attempt to go with 134 rushing yards on 3.8 yards per carry (8 sacks included).
Jones has been slightly better out of the backfield averaging 5.8 yards per carry to go with four touchdowns. All of those numbers will likely get a boost against this defense which gave up 10.4 yards per pass and 7.8 yards per rush to Kent State.
It wouldn't be surprising if Book threw for 300 yards and Jones ran for 100 in three quarters or less.
While the Irish shouldn't have any trouble reaching 50 points, the question is how many points they'll allow because they've given up at least 14 points in every game.
Then again, this may be the worst offense they've faced as BGSU was already shut out by Kansas State and scored seven points against Louisiana Tech.
As expected, the Falcons don't have many positive offensive numbers. Quarterback Darius Wade is averaging 5.8 yards per attempt with a 57.9% completion rate.
Most of that has come via one receiver in Quintin Morris (16 receptions, 218 yards), who has almost doubled every other receiver's numbers. Despite terrible overall numbers, they're averaging a respectable 3.9 yards per carry as a team behind running backs Davon Jones and Andre Clair.
This isn't a good offense, but if Notre Dame gets up by 50 points early, the backups will give BGSU a chance to put points on the board. 
That's kind of what happened against New Mexico, though Notre Dame still added 14 points in the fourth quarter when Book was out of the game.
This spread is huge, but given the placement in Notre Dame's schedule, it wouldn't be surprising if a lot of the regulars only played in the first half and maybe another series or two. Sure, the Irish could still cover, but then you're banking on a bunch of backups.
Both teams have a few trends that point to the under, but none of them are overwhelming. The Irish have covered their last three overall and their last four at home, while the Falcons have failed to cover their last three games.
Our Pick – OVER 60