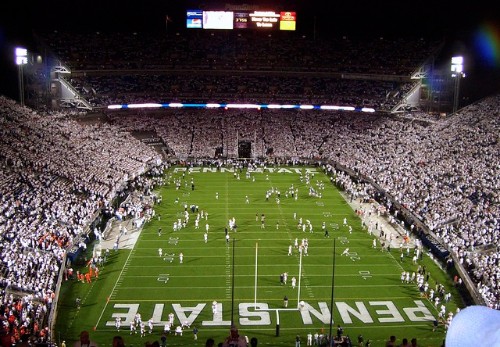 Penn State is undefeated, but isn't getting a ton of attention in the Big Ten, mostly because its schedule is about to get a lot harder, at least after this game. The Nittany Lions should have no problems against Purdue and were -28 point favorites with an over/under of 55.5 as of late Tuesday.
This game looked tougher at one point, but Purdue isn't the same team with its backup quarterback. Starter Elijah Sindelar returned from injury last game, but broke his clavicle in the process and will likely be out the rest of the season.
Enter Jack Plummer, who simply hasn't looked good when in the game, barely completing 50% of his passes to go with four interceptions on just 70 pass attempts. He's also been sacked two more times than Sindelar despite attempting 42 fewer passes.
Some of that has to do with competition, but there are few reasons to put faith into the freshman. Outside of playmaker Rondale Moore (29 receptions, 387 yards), the Boilermakers don't have much help, as the running game is averaging 2.6 yards per carry with King Doerue and Zander Horvath combining for 213 rushing yards in four games. 
The problem is that Penn State's defense could be just as good as TCU's, and Purdue's only touchdown in that game came with three minutes remaining. The Nittany Lions have allowed 20 points in four games and just shut out a potent Maryland offense.
The spread may seem high, but it makes sense, especially considering Purdue's defense hasn't stopped anyone, allowing at least 24 points in every game. 
The reason to avoid betting Penn State earlier in the season was that its offense was subpar and that was the issue against Pitt. But when faced against weaker defenses, quarterback Sean Clifford hasn't had any trouble putting points on the board.
He has a stout 11.1 yards per attempt to go with nine touchdowns and one interception. Top receiver KJ Hamler should be set for another big game as he's ran by most defenses en route to 22.1 yards per reception.
The main question for PSU is its rushing attack, but it's been fine in the early season with Journey Brown at 7.5 yards per carry and Clifford at 5.2 ypc (including 6 sacks). 
This game has all the makings for another blowout by Penn State, at least that's what it looks like. The best chance Purdue has is if Plummer improves in his third start. He was better in his second game, but either way, you'd still be betting on a freshman quarterback.
The Boilers have failed to cover in their last four against a team with a winning record, while the Nittany Lions are 8-1 ATS in their last nine at home against a team with a losing road record.
The road team is 5-1-1 ATS in the last seven meetings between these schools, while the under is 8-2-1 in the last 11. Of course, these teams have met just once in the last five years (2016, PSU won 62-24).
Our Pick – Penn State -27.5