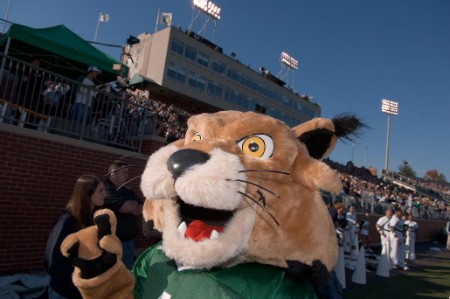 The Marshall Thundering Herd hosts the Ohio Bobcats in a 6:30 p.m. ET game on Saturday in which the home team opened as 4.5 point favorites, but quickly moved to 5.5 points. The total stands at 50.5 points.
Both teams are 1-1 with the Bobcats beating Rhode Island 41-20 before falling to Pittsburgh 20-10 in a road game. For their part, Marshall crushed VMI 56-17 before losing 14-7 on the road against Boise State. Partly cloudy skies and a temperature of 86 degrees with an 8% chance of precipitation as of Monday afternoon.
Marshall RB Tyler King Dismissed from Team
Things couldn't have been more anemic for the Marshall offense last week and the dismissal of Tyler King, reported 17 minutes before the writing of this article, won't make things better.
King led the team in rushing the past two years. He had 10 carries for 75 yards and a long run of 35 against VMI. King is reported to have violated unspecified team rules. Sophomore Brenden Knox got 10 carries versus 5 for King in last weeks game against Boise State and the coaching staff seems confident they can replace the production of this key player.
However, if they're wrong it could be a long night for the Marshall offense that is already struggling.
Low Scoring Game Appears Likely
Pittsburgh gave Ohio everything they wanted last week and the Bobcats were only able to muster 10 points. QB Nathan Rourke was largely ineffective, completing 15/27 passes for 177 yards while losing 43 yards on nine rushes and failing to reach the end zone at any point in the game.
On the flip side, Marshall held the offense of a top 25 team to just 14 points. If they bring a similar effort to this match-up there is a distinct possibility that the Bobcats could be shutout. This game definitely isn't going to be a shootout!
Marshall Needs More from QB Isaiah Green
The first two games of the season have been like the tale of Dr. Jekyll and Mr. Hyde for Thundering Herd QB Isaiah Green. He looked positively stellar against VMI when completing 18 of 28 passing attempts for 238 yards and four TDs, but was completely shut down in a 10 of 17 performance for 57 yards and an INT against Boise State.
Accuracy will be the key against Ohio State. If he can make the passes it will go a long way towards making up for a second half last week in which Marshall was somehow held to ZERO yards.
Ohio QB Nathan Rourke Must Rebound 
It is easy to understand Marshall's QB having early season woes, but less understandable for a senior like Bobcats QB Nathan Rourke. He was frustrated for four quarters against Pittsburgh and rendered not only useless, but a net loss in the running game.
Things won't get easier against a vicious Marshall defense, but he will have to draw on some of that senior experience and turn things around if his team will have a chance at winning the game.
Our Pick – Ohio U +5.5