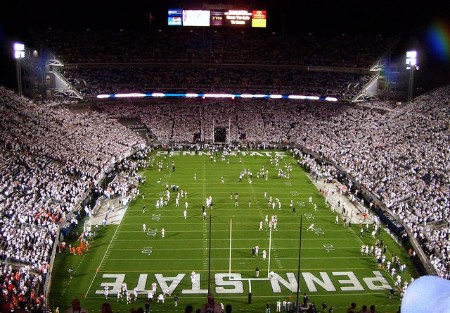 Penn State hosts Pitt this week as -17 point favorites in a game where the Nittany Lions have received the majority of the early action. The total is 54 at 5 dimes sportsbook.
This may be a rivalry, but Penn State hasn't cared about that in recent years. After losing at Pitt in 2016, the Nittany Lions have dominated the last two meetings, namely last year's 51-6 road win. 
Pitt's offense has managed just 34 points in two games and this probably isn't the matchup in which it'll be unleashed. Oddly, the Panthers ran for 245 yards in last year's game, yet still only managed six points.
Pitt Ground Game Needs Work
The problem is that their ground game has been worse this year with A.J. Davis leading with 114 yards through two games (eight carries, 25 yards vs. UVA). While they'll probably take that same run-first approach, it's a wonder if they'll have as much success.
If not, it'll be up to quarterback Kenny Pickett to do the rest. His early numbers are subpar, averaging 6.5 yards per attempt, and last year's 55-yard performance doesn't incite much optimism. 
The Panthers have struggled to score early and it wouldn't be surprising if they struggled to hit 20 points again. The path for them covering is to contain Penn State's offense and limit them to 30 points or less. That's a viable path given that Pitt contained Trace McSorley last year, but its run defense is still a question.
How Good is the Penn State Offense?
It's not a certainty that PSU's offense is as good as a year ago. Sean Clifford has awesome passing numbers, but he leads the team with 108 rushing yards, which isn't a great stat considering the offense's early dominance.
It's unknown what Clifford can provide if faced with some adversity and that's what Pitt brings to the table. If Clifford struggles, it's up to the ground game and it's not a given the running backs will succeed, whether it's Ricky Slade, Journey Brown or Noah Cain carrying the ball.
This offense has exploited bad defenses in the early season, but Pitt provides a different look. While the Panthers gave up 30 points to a solid Virginia team, a lot of those came on short fields because Pickett threw a couple interceptions. If Pickett doesn't turn the ball over, this game could be low scoring and possibly competitive.
If you like Pitt, then it's also reasonable to take the under. There's almost no way Pitt covers this game with the over hitting because this team isn't going to score much. The question is how much you believe in Clifford after he's torched subpar defenses the first two weeks. The under is 4-0 in Pitt's last four games on grass and Penn State is 3-0-1 ATS in its last four against the ACC.
Our Pick – Pitt +17