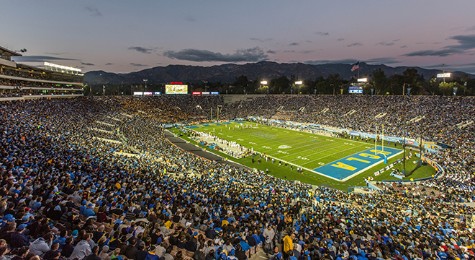 Will anyone bet UCLA in this game and feel good about it? Oklahoma was a -23 point favorite as of Wednesday with an over/under of 73.5. These two teams have gone in opposite directions through the first two weeks and that trend will likely continue.
The best thing going for the Bruins is that Oklahoma has to travel to the West Coast. Otherwise, there aren't many positives. The Sooners won this matchup 49-21 last year and that score will be possible again.
Is UCLA Offense Worse this Year?
After UCLA scored the first touchdown in that game, OU scored the next 42 with UCLA's next two scores coming in the fourth quarter. Unfortunately, it's possible UCLA's offense may be worse this year, though some of that can be chalked up to playing elite defenses. 
That may be the case but there's no supporting Dorian Thompson-Robinson's early numbers, completing 52.5% of his passes for 5.8 yards per attempt. He had two long passes totaling 110 yards in last year's meeting, but his other 24 attempts went for 144 yards.
It'd be nice if the Bruins could get something going on the ground, but they're averaging 1.8 yards per carry as a team and averaged 2.6 ypc in last year's game. The hope is that top receiver Theo Howard returns after missing the first two games.
He could help Thompson-Robinson, but it's hard to say that will make all the difference. Top running back Joshua Kelley returned against SDSU and he went for 53 yards on 15 carries.
Oklahoma Defense Mediocre
Either way, this Oklahoma defense knows how to give up points. Even though it dominated its first two games, it's still allowing points, namely the 14 given up to South Dakota. If the Bruins can hit 21 again, a cover is in range.
However, it's still unknown if UCLA's defense has improved or if it simply hasn't played a good offense. Both Cincinnati and SDSU are defense-first so this is kind of an opposite matchup.
This will technically be the toughest defense Oklahoma has faced and UCLA wasn't terrible in last year's meeting despite giving up 49 points. Kyler Murray completed less than 10 yards per attempt and the Sooners averaged 5.1 yards per carry, which are subpar numbers for this offense.
How Good is Jalen Hurts?
There's still a question about what Jalen Hurts can do as he hasn't been tested, completing 82.9% of his passes to go with 223 rushing yards on 24 carries. Those numbers will go down at some point and that could easily happen against the Bruins.
The best chance UCLA has of covering is if it can limit Oklahoma to no more than 40 points, which is a tough strategy to bet on. The Sooners seem to be a lock for 40 points in most games and if they reach that mark, a cover should be attainable because UCLA's offense has shown no ability to score more than 20.
The over is 5-0 in Oklahoma's last five against a team with a losing record, but most of UCLA's trends point to the under, thanks to its defunct offense.
Our Pick – It's hard to believe the Bruins can be this bad. Pathetic thus far. With literally all starters back this year, we'd expect their to be improvement over last year in Chip Kelly's 2nd year.
That improvement hasn't materialized yet. In fact, it's looked just the opposite. Could this be the week?
We're going to back the Bruins here from a "don't make sense" against the public play. You have to be willing to back a team when literally no one else will. UCLA +24