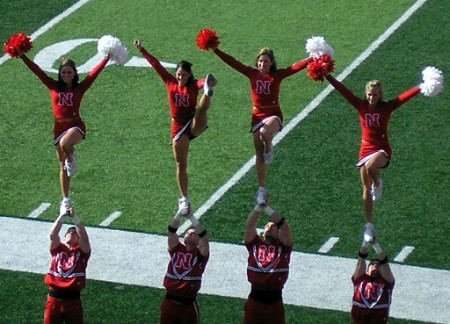 Nebraska hosts Northern Illinois as 14 point home favorites in week 3 college football betting action. The total at 5 dimes sportsbook is 54.5.
It didn't take long for Nebraska's season to go off course. After getting hyped throughout the offseason and eventually having the best odds to win the Big Ten West, it faltered against a mediocre Pac-12 team. 
Nebraska disappointed in its opener and then it really disappointed against Colorado after leading 17-0 at halftime. The Huskers had a similar start to last season and it took them about 12 games to figure things out and it looks like that may be happening again.
No Offensive Consistency for Nebraska
Quarterback Adrian Martinez has had some big plays, averaging 9.8 yards per pass attempt, but he's barely completing 60% of his passes and hasn't had as much success using his legs, averaging 2.3 yards per carry.
Outside of a couple big throws to JD Spielman and Maurice Washington, the consistency hasn't been there for this offense. The same goes for the ground game which has a 40-yard rush from Washington and not much else, averaging 3.1 yards per carry as a team.
The bad news is that Northern Illinois is a team built around defense and wants to keep points at a minimum. As seen in the first couple games, it wouldn't be surprising if Nebraska was held below 30 points by a good defense.
The Huskies held their own against Utah last week and while they allowed 35 points, Utah's offense is probably better than Nebraska's at this point, at least easier to trust. 
Huskies Offense Questionable
Of course, there are probably more questions about NIU's offense which doesn't look much better than a year ago when it averaged 20.1 points per game. Scoring 17 points against Utah is solid, but overall, it wasn't a great performance, rushing for 67 yards on 25 carries (sacks included) while quarterback Ross Bowers got the majority of his production on a 74 yarder.
NIU would like to lean on running back Tre Harbison when possible, but that probably won't work against a defense which has had more trouble against the pass. For the Huskies to compete, it'll be up to Bowers, and that's still up for debate for the Cal transfer. He may see his numbers jump against the MAC, but it'll be tough to put in a big outing against the Huskers.
It wouldn't be surprising if Nebraska had trouble putting another team away, especially one that relies on defense. However, as the superior team, the Huskers will likely want to come out on the offensive and get Martinez going.
It was only two years ago when Northern Illinois won 21-17 in this spot as a 10.5-point underdog. The difference is that Scott Frost and Adrian Martinez are in town and fans are hoping that's enough.
The under has hit in NIU's last four against the Big Ten, but the over has hit in its last four on the road. The Cornhuskers have failed to cover their last six non-conference games.
Our Pick – Nebraska -14