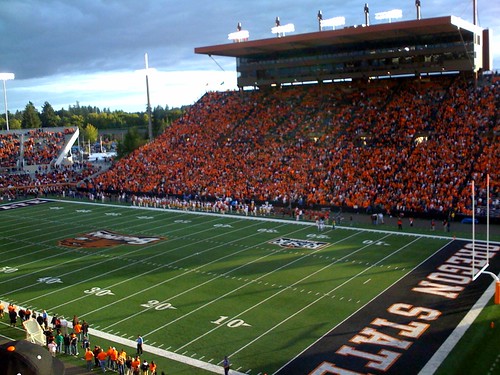 The Oregon State Beavers season win total betting line for the 2019 college football season is set at 2.5 wins. Even with the total that low, bettors are showing no confidence in the Beavers as early money is on the under.
Oregon State improved last year, but going from one to two wins doesn't really lead to much excitement for the fan base. Still, it's only Year 2 for head coach Jonathan Smith and a turnaround isn't going to happen immediately for a team that has five FBS wins in the last four seasons.
Offense Not the Problem
OSU actually had a passable offense last year, averaging 405 yards and 26.3 points per game and improvement is possible with returning talent.
At quarterback, oft-injured Jake Luton is back for his sixth-year of eligibility (three years at OSU), but he still has to win the job over sophomore Tristan Gebbia, a Nebraska transfer, and that'll be decided in the fall.
The running backs are probably the strength of the team after Jermar Jefferson ran for 1,380 yards and 12 touchdowns last year, while Artavis Pierce went for 7.6 yards per carry on 54 totes.
Receiver is fine, as well, with Isaiah Hodgins (876 yards, 5 TDs), Trevon Bradford (649 yards, 6 TDs), Nebraska transfer Tyjon Lindsey and tight end Noah Togiai.
The problem is that the line lost three starters after allowing a nation-high 48 sacks in 2018. Then again, new blood will probably help them, including Arizona grad transfer center Nathan Eldridge.
Defense Was Worst in Nation
While the offense has hope, the defense has to improve after being one of the worst in the country last season, allowing 537 yards and 45.7 points per game. In fact, this group can't get any worse because it didn't do one thing well, sacks and turnovers included.
In addition to numerous returning starters, a few transfers were added to bulk the group. That includes Jordan Whittley on the line, along with a hopefully healthier senior season for end Jeromy Reichner.
Senior Elu Aydon is a decent building block in the middle, though that has rarely worked for this defense. Linebackers Hamilcar Rashed (12.5 TFL) and Andrzej Hughes-Murray are the strength of the defense and should be helped by a couple transfers from Oklahoma and Nebraska.
The secondary returns a couple senior starters, but more importantly, a few players are back after missing most of 2018 due to injury.
No Bowl Game This Year
OSU won't make it to a bowl game right away, but it could end up with another win or two. However, that means it'll have to win at Hawai'i and against Cal Poly early in the season.
Otherwise, the Pac-12 schedule isn't the best with a difficult home slate, which features Stanford, Utah and UW.
It's unknown where the one or two conference wins will come from because every team in the Pac-12 seems to be improving.
Sure, the Beavers could win at UCLA, Cal or Arizona, but you probably don't want to project road wins for this team. They could add one more win overall with four possible only if both sides of the ball take another step toward mediocrity.
How to use returning starters to handicap college football
2019 Oregon State Beavers Football Schedule
Aug. 30 vs. Oklahoma State (opened +16.5)
Sept. 7 at Hawai'i
Sept. 14 vs. Cal Poly
Sept. 28 vs. Stanford
Oct. 5 at UCLA
Oct. 12 vs. Utah
Oct. 19 at California
Nov. 2 at Arizona
Nov. 8 vs. Washington (opened +21.5)
Nov. 16 vs. Arizona State
Nov. 23 at Washington State
Nov. 30 at Oregon