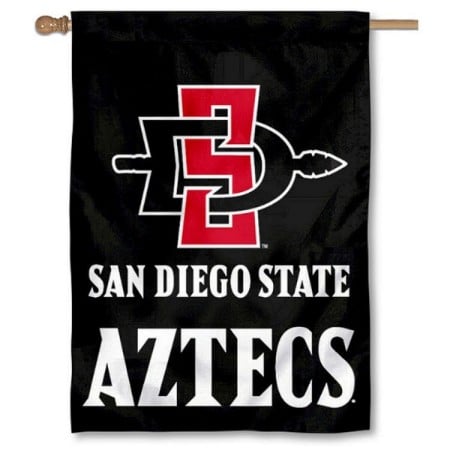 The Cowboys of Wyoming travel to play the San Diego State Aztecs at 10:30 p.m. ET on Saturday night in what could be called the "get out game". The Aztecs opened as 4 ½ point favorites, but have dropped to as low as 3 ½ points depending on your sportsbook of choice. The total is the lowest of any game this week at just 39 points.
Glacial offenses on both sides
San Diego State enters this game fresh off a 24-10 road victory over Colorado State. Wyoming was last seen crushing UNLV 53-17. Together, they are two of the worst offensive teams in the FBS. Wyoming checks in at 95th best with 365 yards per game. San Diego State is even worse at 117th best on the strength (or lack thereof!) of 324 yards per game.
He might not be lighting up the state line, but Aztecs senior QB Ryan Agnew has been surgically precise at times. He looked especially good last week when he completed 16 of 20 passes for 147 yards and 3 TDs. He has only thrown 2 INTs through five games thus far in 2019. Wyoming will bring plenty of pressure and it will be up to Agnew not to fold and make mistakes if his team expects to not only win, but cover the spread.
Wyoming's dual threat QB Sean Chambers might be a freshman, but he has yet to disgrace himself. Through five weeks of play he has passed for three TDs and rushed for six more. He could be in for a shock against the San Diego State defense who figures to gameplan around shutting him down.
Neither team is particularly imposing offensively and will have to bring their best stuff to win the game.
San Diego State has dominating defense
When you think defensive powerhouses you might not think of San Diego State, but you should! The Aztecs rank 8th nationally in total defense. They are giving up just 271 yards per game. The defense has collected 14 sacks to go along with 6 INTs. Minus a 23-17 loss to Utah State, the Aztecs defense hasn't given up more than 14 points all season long.
When you combine the lack of scoring from the Wyoming offense with the sheer brilliance of the San Diego State defense you can see why the total of 39 for this game is the lowest on the board this week. We see the same story when the Wyoming defense is matched up against the Aztecs offense.
Wyoming can play defense, too
The Cowboys are ranked 8th in the country with 20 sacks so you know they will be looking to get to San Diego State QB Ryan Agnew early and often. The secondary is playing well with 6 INTs so far this season. They even have a defensive TD to their name which is something that San Diego State can't say despite having better overall statistics than Wyoming.
There isn't much separating these two teams and in the end it will be the one that is able to limit mistakes that comes out on top.
Our Pick – Wyoming +4