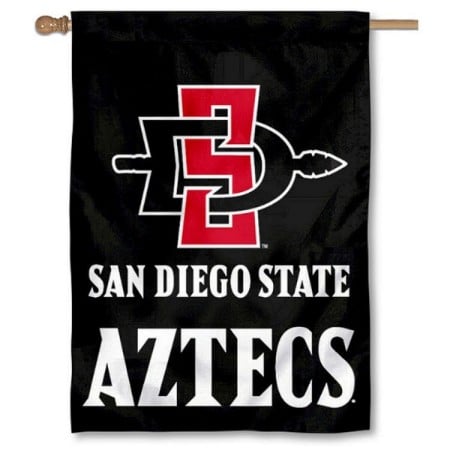 The season win total betting line for San Diego State football for 2019 has been set at over or under 8 wins with balanced action early. The Aztecs are also the 2nd betting choice to win the MWC with odds of 5 to 1.
Things got away from San Diego State last year and it didn't change once it got really bad. Following wins against Arizona State and Boise early in the year, Rocky Long's team lost its final four games to finish with a 7-6 record.
A fourth-place finish in the West division is not good enough for the Aztecs, who usually finish in the top two. That should change in 2019 with a manageable schedule.
Offense Should Be Better in 2019
The offense has to do better, there's no way around it after averaging 20.6 points per contest. And so, they're moving to more of a spread offense, albeit one that still relies heavily on the ground game.
That's fine because the line returns three starters to go with two transfers from Oregon and BYU, and running back is in an even better situation. Juwan Washington (999 yards, 10 TDs) is still there with Chase Jasmin (592 yards, 5 TDs), Chance Bell, Jordan Byrd and Nebraska transfer Greg Bell.
If the running game can return to previous levels, the Aztecs will be set as long as Ryan Agnew doesn't completely bust at quarterback. Agnew took over for Christian Chapman earlier than expected and that led to mediocre numbers, completing 51.6% of passes on 7.4 yards per attempt. It'd be hard for him not to improve with a decent receiving corps of Tim Wilson (19.1 ypr), Ethan Dedeaux (262 yards) and tight end Parker Houston. 
Solid "D" Key to Aztecs 2019 Success
At the least, the defense isn't going anywhere after allowing a solid 327 yards and 21.8 points per game, and that still includes the late-season collapse (giving up 23 or more in final six games).
The back eight is loaded, but the front has questions outside of tackle Myles Cheatum. Numerous underclassmen are set to start or play in the two-deep, which could be an issue early. However, middle linebacker Kyahva Tezino is one of the best in the conference and the secondary is filled with experienced in safeties Tariq Thompson, Trenton Thompson and Tayler Hawkins.
At corner, Kyree Woods brings seniority, while sophomore Darren Hall has a promising future. Even if the offense has early hiccups, the defense should keep this team competitive.
Double Digit Wins Possible
Of course, Long wants the Aztecs to be more than competitive early in the season and that means winning that early trip to UCLA. If they can come out of the first three non-conference games with wins, that would be huge, though two wins is still a good start.
To have a shot at upending Fresno, they'll need to win the MWC opener against Utah State and of course beat the Bulldogs later in the season. Otherwise, SDSU's conference schedule is favorable without any truly difficult road games.
That schedule sets up for at least eight wins this season, but if the offense can make a jump in the spread, there's a chance this team reaches double-digit wins. Of course, that would likely require three non-conference wins, meaning a win at either UCLA or against BYU in the finale.
At the least, every game is winnable on the schedule, it's a matter of improving on last year's late struggles.
The Aztecs visit UCLA Sept 7th. Here's our UCLA Betting Preview
2019 San Diego State Aztecs Football Schedule
Aug. 31 vs. Weber State
Sept. 7 at UCLA
Sept. 14 at New Mexico State
Sept. 21 vs. Utah State
Oct. 5 at Colorado State (opened -7.5)
Oct. 12 vs. Wyoming
Oct. 19 at San Jose State
Oct. 26 at UNLV (opened -6.5)
Nov. 9 vs. Nevada
Nov. 15 vs. Fresno State
Nov. 23 at Hawai'i
Nov. 30 vs. BYU