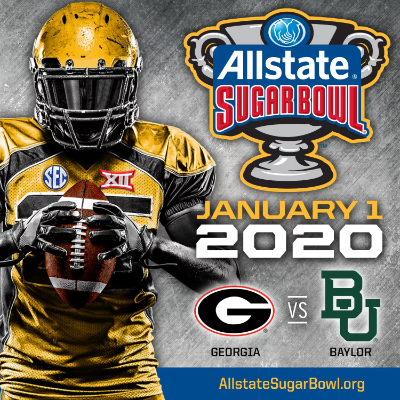 Yet again, the Sugar Bowl features one team disappointed and another happy to be there. Georgia once again flopped in its quest to make the CFP, while Baylor finished 11-2 after going 1-11 in Matt Rhule's first season (2017). The less motivated Bulldogs dropped to -6 point favorites with an over/under of 41 a week before the game in New Orleans.
Georgia put itself in this spot after losing at home to South Carolina. Otherwise, it displayed defensive dominance, allowing no more than 20 points in every game but the SEC Championship loss to LSU. The question is who plays for the Bulldogs and how motivated they'll be. In this spot last season, they lost 28-21 which may be reason enough to back the underdog.
Of course, this Baylor team probably isn't on the same level talent-wise, which is why it won one game two years ago. At the least, Rhule knows how to coach and won his first bowl game with the team last year, 45-38 over Vanderbilt. The Bears eked out numerous wins in the Big 12 via solid offense and defense, but they couldn't crack the code to upend Oklahoma. 
While Georgia has players leaving early for the NFL Draft, it was still unknown if Baylor quarterback Charlie Brewer would be able to play following a concussion in the Big 12 title game.
If he can't go, backups Gerry Bohanon and Jacob Zeno provide a lot of unknowns, which probably isn't good against this defense that allowed 274.2 yards and 12.5 points per game. The bigger problem is that they allowed 2.7 yards per rush and that's what Baylor does best.
The Bears averaged 4.8 yards per carry between the duo of JaMycal Hasty and John Lovett, though Brewer also added more than rushing 500 yards if you throw away sacks. If they can't run, similar to the Oklahoma matchups, it'll be up to the quarterback.
Brewer had solid numbers, averaging 8.5 yards per attempt with top wideout Denzel Mims securing 61 receptions. However, if Brewer doesn't play, moving the ball will be difficult no matter who plays for Georgia. 
At the least, Baylor also has a solid defense, allowing less than 20 points per game and a solid 3.7 yards per carry. The numbers may not be as good as Georgia's, but playing in the Big 12 is a bit different.
The goal will be to keep Georgia around 20 points. The Bulldogs run a similar offense based around the ground game with D'Andre Swift totaling 1,216 yards and seven touchdowns on 6.2 yards per carry.
Unless they change their style, they won't ask quarterback Jake Fromm to do much after completing 7.4% of his passes for 22 touchdowns and five interceptions. This offense is all about the rushing attack and even if it doesn't have great success, they'll stick with it. 
Georgia's defense dominated this season, but as seen in its last bowl, motivation is a real factor. Then again, if Brewer doesn't play, it'll be hard to back Baylor who may have trouble reaching 10 points. This should be a lower-scoring game, so a close score wouldn't be surprising.
Baylor has covered its last five games overall and last four bowl games as an underdog. The under is 6-1 in Georgia's last seven against a team with a winning record and the Bulldogs are 8-1 ATS in their last nine neutral-site games as a favorite (they lost 28-21 as a double-digit favorite last bowl).
Our Pick – This game opened Georgia -8. Early bettors have sucked the value out of this one if you like the Baylor side with the number at +5.5 as of this writing.
We definitely get the attraction to Baylor. If ever there was a live dog, it would be the Bears. They put up some nice numbers on both sides of the ball this year and may be the more motivated team, though they have not faced a defense as strong as Georgia's.
Georgia on the other hand, was not able to extend a margin against teams that put up a fight defensively. Specifically, South Carolina, Florida, Auburn and Texas A&M. All of those games were decided by a TD or less.
At +7 or better we would take Baylor. Just not willing to take the worst of the number at +5.5 though a straight up Baylor win not out of the question.
Our model's predictions
Full season data – Georgia 22-12
Last 7 games data – Georgia 21-13
Last 4 games data – Baylor 21-17