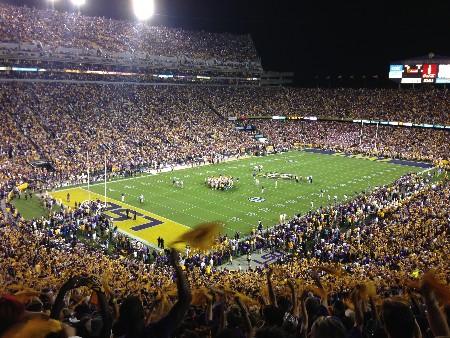 The time to be flashy is over. LSU just has to win its next two games to get the No. 1 (or No. 2) seed in the College Football Playoff. Easier said than done in the SEC, especially against Texas A&M, who won this matchup 74-72 last season (yes, that game). The Tigers were -17 point home favorites with an over/under of 62.5 as of Wednesday.
Last year's matchup went to seven overtimes, but more importantly, it may have been the breakout game for Heisman favorite Joe Burrow. He was the main reason LSU had a chance in that game, throwing for 270 yards and three touchdowns, but also running for 100 yards and three more touchdowns. The main difference this year is that Burrow is a touch better and A&M hasn't improved.
Some may look at the Aggies and think disappointment, but their four losses have come against Clemson, Auburn, Alabama and Georgia. Sure, they don't have a win against a team with a winning record, but they've at least been competitive. Then again, they lost 47-28 at home to Alabama and that's the matchup a lot of bettors will look to.
A&M has good defensive numbers, allowing 20.2 points per game, but that Alabama performance is a worry, especially on the road in this one. LSU may have the best offense in the country behind Burrow, who is completing 78.9% of his passes on 10.9 yards per attempt for 41 touchdowns and six interceptions.
His has some of the best receivers around in Ja'Marr Chase and Justin Jefferson, both of whom are over 1,000 yards and have a combined 27 touchdowns. Running back Clyde Edwards-Helaire has been slightly under the radar, yet is averaging 7.0 yards per carry for 15 touchdowns.
This offense was held under 36 points once all season and that came against Auburn. A&M's goal will be to limit LSU to around 30 points, but to have a chance for an upset, it will need to score.
LSU's defense has had its issues this season and is the main reason it has a 6-5 ATS mark. The Tigers have allowed at least 20 points in their last four games and some of those teams don't have good offenses.
The Aggies at least have a quarterback capable of putting in a huge performance even if the numbers don't show it. Kellen Mond has three touchdowns in the last three games and is averaging a mediocre 7.3 yards per attempt.
It's a wonder if he'll try to run a little more in this game because he's averaging almost seven yards per carry if you take away sacks. Otherwise, Isaiah Spiller will probably get at least 20 carries as long as LSU's run defense doesn't repeat what Georgia did last week (Spiller had 11 rushes for seven yards).
A&M isn't a pushover, but that loss to Alabama is hard to ignore, especially with this spread below 20 points. While LSU has the SEC title game the following week, it could also drop 50 points in this matchup and win by 30.
Texas A&M has covered its last four SEC games and the under has hit in its last four on the road, while LSU has no relevant trends. However, the Tigers have covered the last eight meetings between these teams, though only one of those spreads was more than a touchdown and it was at 11 points two years ago.
Our Pick – Texas AM +17