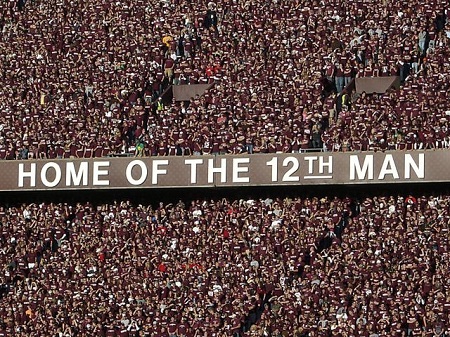 Texas A&M will host Texas State to kick off the 2019 college football season as 34.5 point favorites on Thursday night, August 29th. We'll take a look at the game and offer a pick against the spread below.
On the bright side for Texas State, they return a healthy number of starters from last years squad.  The problem of course,  is when you aren't very good to begin with, it really doesn't matter how much experience returns.
Texas State was 3-9 last season and finished in last place in the Sun Belt Group A division. To get an idea of what Texas State may be getting themselves into here, take a look back to last season's opener.
In 2018, Texas State opened up against Rutgers. That was considered a step up in class. Yes, it's Rutgers. But, it's the Big 10. At any rate, the final score was 35-7 in favor of the Scarlet Knights.
Texas A&M finished last season 9-4 with a grueling schedule. They ended the season with a bowl game dismantling of NC State 52-13.
A&M isn't in the best of shape in terms of returning starters with just 11, however 7 of those coming back are on the offense.
Frankly, this isn't a spot where returning starters would come into play. The talent gap from a recruiting standpoint is night and day.
Can Texas State Cover the Spread?
It's not at all difficult to make a case for Texas State in this game. This is the very definition of a "look ahead" game. Texas A&M has none other than the National Champions, the Clemson Tigers, on deck.
You can be sure that every practice Texas A&M has had going back to the spring has focused on Clemson. Texas State is an after thought.
Here you have a Texas State team with a roster filled with players that were overlooked by the bigger schools. Texas A&M likely one of them. There's no greater motivator than the chance to prove someone wrong.
Lastly, even if Texas A&M shows up focused and ready to go, you know that they will take starters out as their lead grows which opens the door for that back door cover.
If Aggies Show Up It's a 40 Point Win
Of course, making a case for Texas A&M isn't all that difficult either. The case for the Aggies is simply to show up focused, give 100%, win by 40+. The talent gap is simply that wide. Texas A&M has 3rd stringers that would be superstars if they were on the Texas State roster.
Using full season data for both teams, our model has Texas A&M winning this one by a  score of 58-7. While the rosters have changed a bit, the talent level hasn't.
Handicapping sports isn't just about picking the right games. It's just as much about knowing which games not to mess around with. In that regard, we'd suggest that there are far better opportunities on the board.
Of course, there will be those that want are best guess on this one. In that case, we  have to look at this game from the standpoint of the Aggies going all out and not taking their foot off the gas. In that scenario, we like Texas A&M minus the huge spot.
Our Pick – Texas A&M -34.5