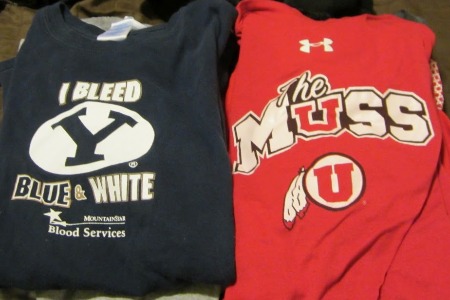 The BYU Cougars will host the Utah Utes as home underdogs (+6) to open the 2019 college football season on August 29th. We'll preview the game and offer our pick against the spread below.
We can't think of a better way to open the year than with a rivalry game. In this case, the "Holy War". Utah has won 8 straight in this series. Last season saw BYU cruising along, up 27-7 late in the 3rd quarter before allowing the Utes to come all the way back and win, 35-27. That one hurt.
Both of these teams have high hopes for 2019. Both teams are in off winning seasons and are stacked with returning talent. BYU returns 17 starters and Utah returns 14.
With that in mind, this is a game where last season is relevant in terms of our handicapping. Many of the same pieces are in place.
Early Betting Favors Utah
It's interesting to note that the majority of the early betting action has been on the Utes. Those early bettors no doubt look at last years game and put more emphasis on the 4th quarter as the true difference between these teams.
In other words, from their perspective, the Utes simply came out flat. Once they woke up and scored 28 unanswered points, that showed the true gap in talent.
We're going to disagree. In fact, the great thing about rivalry games is that you can tell plenty just from looking at the scores of the most recent games.
Utah has won 8 straight. Here are the scores of the last 6.
35-27
19-13
20-19
35-28
20-13
24-21
Three games were decided by a field goal or less. The other three by a TD or less. Sure, Utah won them all but the margins show us that the gap in talent is small. Both teams are able to recruit at the same level.
Revenge is one of the best motivators and one of the strongest angles when handicapping college football.
Now, you can say the revenge factor did absolutely nothing for BYU for 8 straight years. That much is true. But there's no time like the present and BYU looks to be in great position to finally get over the hump. They won't have a better opportunity than this any time soon.
Score Prediction Model Says Margin is 5 or Less
Since many of the same pieces are in play in terms of personnel, we can put some faith in our model's prediction using data from last season. We run the model with 3 sets of time frame parameters and all 3 have a margin of 5 or less.
The score prediction that carries the most weight is the one that uses data from the last 7 games for each squad. That prediction comes up 21-20 in favor of BYU.
We handicap games looking for opportunities where we think we can win somewhere between 55 to 58 times out of 100.
In college football, the names of the players change, but the situations do not. The same situations we saw 20 years ago still exist today, every single year.
This is a situation we'll take every time (and have). A good team, at home in a rivalry game, getting points, with a chance to finally turn the tables. Oh, and playing at night to open the season in a nationally televised event doesn't hurt either.
This preview was written and posted in early July. We'd be surprised if you could still get +6.5 by the time August 29th rolls around.
Our Pick – BYU +6.5 (Betonline)