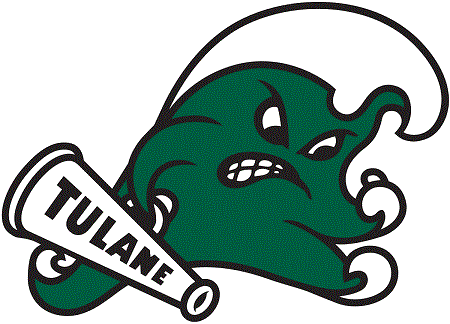 The Memphis Tigers (5-1, 4-2 ATS) host the Tulane Green Wave (5-1, 5-1 ATS) on Saturday at 7 p.m. ET at Liberty Bowl Memorial Stadium in Memphis, TN.
The home team opened as four point favorites, but the line has moved to 4-½ points in some places. Betting action strongly favors Tulane who has taken 69% of all bets. The total opened at 59-½ points and remains there with 57% of bets on the over. Last year, Tulane easily defeated Memphis by a score of 40-24.
American Athletic Conference rivals
Tulane (2-0 conference) and Memphis (1-1 conference) both reside in the AAC West division. The Tigers have already fallen behind and will be looking to pull even. They reached the conference title game in 2017 and 2018. A rising Tulane team certainly won't make things easy for them, but Memphis is tried and true. They are still one of the teams to beat in the AAC until proven otherwise.
Tulane playing well
The Green Wave are 5-1 and haven't shown much weakness thus far in the 2019 season. True, they lost to #6 Auburn 24-6, but that is easily forgivable. They needed 17 fourth quarter points to win 38-31 against a bad Houston team, but have otherwise been in cruise control. Granted, they have yet to play a team with a pulse other than Auburn, but they are doing things the right way.
Tulane has won four consecutive games and covered all of them. The total went over in three of those four games. Now, they face their first true test since the start of the season.
Memphis battle tested
The Tigers have played a tough schedule, but are handling it very well. They beat Ole Miss to start the year. Anytime a team like Memphis can get a win against the SEC it has to be viewed as a positive. They also held Navy's #1 nationally ranked rushing offense to three second half points en route to a 35-23 win. They slipped up on the road against Temple last week, losing 30-28, but the Owls are a very good team in their own right.
Memphis has won two of their last three games against the spread and the total went over in all three events.
Tigers strong on both sides of the football
Memphis has one of the better offenses in the AAC. They're producing a very respectable 466.2 yards per game to go along with 37.8 PPG. The defense is middling, statistically, but you have to consider the strength of schedule's influence on that. Simply put, they're better than the numbers. That's very encouraging given they allow only 21 PPG.
The Green Wave haven't cracked the top 25 since 1998. They're only a few votes away from making it, but without a win against Memphis the hopes of the institution and its fans will be dashed. Players are preaching a "one week at a time" mentality, but this is a program that is clearly craving more respect. They are feeling full of themselves after a 5-1 start.
Our Pick  – Tulane +4