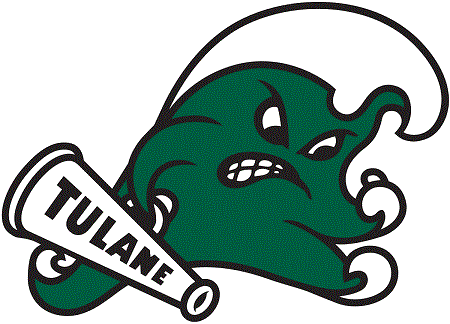 Tulane Football is listed at odds of 35 to 1 to win the AAC in 2019 and the Green Wave season win total betting line is set at 5.5.
Early bettors disagree with that posted win total as they have been betting the over. The money line  on the over sits at -170 as of early July.
Tulane has made two bowls, finishing with a winning record both times, only twice since 2002. One of those was last season, the third under head coach Willie Fritz, who has improved the Green Wave's record every year.
They went 7-6 with a bowl win and adding another win is the next logical step. The oddsmakers don't envision that extra win with an over/under of 5.5, though early money was on the over.
New OC Looks to Improve Offense
The Wave have a new offensive coordinator in Will Hall (Memphis AHC, Louisiana OC), who has been with the team since December as the previous OC was fired after the regular season finale.
After the offense averaged only 26.8 points per game, Fritz wanted to add more tempo and a few more points. That improvement starts with quarterback Justin McMillan, who took over halfway through 2018 and finished with 10 touchdowns and four picks on 8.5 yards per attempt, while adding 238 rushing yards and five more touchdowns.
He should improve, but the line could again be an issue with three starters gone from a troubled unit that gave up 35 sacks. They brought in a transfer and big recruit, but that doesn't guarantee improvement. If things work out, the talent is there for the offense to pop.
Running backs Darius Bradwell (1,134 yards, 11 TDs) and Corey Dauphine (785 yards, 7 TDs) return, as well as top wide out Darnell Mooney (993 yards, 8 TDs). Though a slew of receivers are gone, the addition of OK State transfer Jalen McCleskey eases the blow.
Most of Front 7 Returns on Defense
Even with the offensive excitement, the all-or-nothing defense was the strength of the team last year, allowing 27.8 points per game. The majority of the front seven returns with depth in most places led by ends Patrick Johnson (10.5 sacks) and Cameron Sample.
The same goes for the returning interior and solid linebacking corps, though it lost its top tackler. Inside LBs Lawrence Graham and Marvin Moody will be fine, but the secondary has some questions with a couple sophomores set to start.
Tulane rotated its secondary a lot last year so there's experience, but that's undoubtedly the weakest part of the defense even with senior corner Thakarius Keyes and safety P.J. Hall.
Pieces in Place for 7 Wins
Tulane has the pieces to improve this year and the schedule isn't much different than last season. The trips to Auburn and Army will likely be losses, but this team had three non-conference losses last year.
Playing UCF is also rough, but similar to that early Houston game, it's at home and an upset wouldn't be overly surprising. To surpass six regular season wins, the Green Wave will likely need to steal a road game somewhere, with late trips to Navy, Temple and SMU all possible.
The trip to Memphis will likely keep them from competing at the top of the West standings, but that doesn't mean this team can't finish with a winning record. The offense is in good hands and with plenty of returning talent defensively, things are looking up even more for Fritz and the Wave.
2019 Tulane Green Wave Football Schedule
Aug. 29 vs. Florida International (opened -3)
Sept. 7 at Auburn
Sept. 14 vs. Missouri State
Sept. 19 vs. Houston
Oct. 5 at Army
Oct. 12 vs. Connecticut
Oct. 19 at Memphis
Oct. 26 at Navy
Nov. 2 vs. Tulsa
Nov. 16 at Temple
Nov. 23 vs. UCF (opened +7.5)
Nov. 30 at SMU