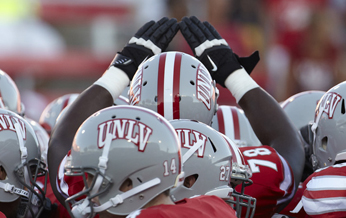 If you end up out and about on Friday night you're surely going to see the UNLV (2-4) versus Fresno State (2-3) game on TV at bars and restaurants throughout the country. While neither team is having a marquee season, football is football and these teams will get us an early start on the weekend.
The spread opened at -13-½ in favor of Fresno State and is already as high as 14-½ points. The action favors the Bulldogs who are receiving 54% of the action. These teams last met one year ago with Fresno State earning a punishing 48-3 win.
Fresno State better than 2-3 record
Despite owning a losing record through the first five weeks of the season, there are reasons for Bulldogs fans and bettors to smile. First, two of those losses came to USC and Minnesota. They were never beating USC, but they managed to take Minnesota to OT before losing 38-35. The Gophers have gone on to be 6-0 at this point and are members of the top 25.
After those games, Fresno State whipped Sacramento State and New Mexico State. The winning streak was cut short last week when they met an Air Force team that was a little too much for them. They lost 43-24. All in all, Fresno State is playing well this year and will be looking to put on a show for the fans. Football is beloved at Fresno State and there is plenty of pride go around. Expect the Bulldogs to give an A+ effort.
UNLV worse than 2-4 record
The Runnin' Rebels opened their season with a 56-23 win over Southern Utah who is perhaps one of the worst teams in the country. They proceeded to drop games to Arkansas State, Northwestern, Wyoming and Boise State. None of those games were close and they were thoroughly blown out each time.
UNLV got a confidence boost last week when they traveled to Vanderbilt and beat the Commodores 34-10. Typically, a win against an SEC team is something to get excited about, but Vanderbilt is REALLY bad. They are 1-5 and they might not win again this year if they didn't have East Tennessee State on their schedule.
Williams key to UNLV offense
Junior RB Charles Williams has been the brightest part of the UNLV offensive attack. He has carried the ball 90 times for 598 yards and 7 TDs and a YPC of 6.6. Unfortunately, his chances to impact the game have been hurt by the fact that his team ends up coming from far behind and abandoning the run.
QB Jorge Reyna leads Fresno State
Senior QB Jorge Reyna has been very effective under center for the Bulldogs. He has completed at least 20 passes for four consecutive games and has a completion percentage of 64.2% on the season. He has nine TDs and four INTs. Reyna is more of a game manager and will be handing the ball off to his RBs with a high frequency.
Our Pick – UNLV +15.5