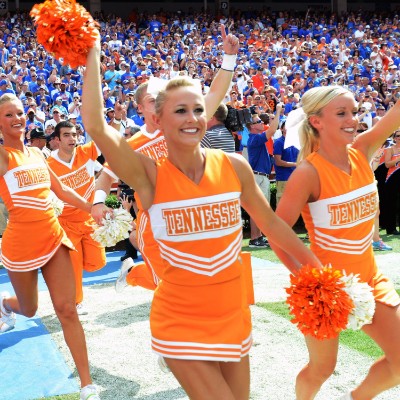 There is nothing quite like SEC football and although these two teams aren't among the conference leaders we are still in for a treat when the Tennessee Volunteers (1-4) host the Mississippi State Bulldogs (3-2) on Saturday at 12 p.m. ET!
Despite being the home team, the Volunteers are 7-point underdogs. Early action favors the Bulldogs who are taking 69% of total bets. The total opened at 52 and has moved to 53 at most sportsbooks.
Tennessee is struggling
Things haven't improved for the Volunteers since suffering an embarrassing 38-30 loss to Georgia State to start the season. They followed that dandy up with a 29-26 loss to BYU before blowing out Chattanooga 45-0. Then, they lost at Florida 34-3 and were destroyed by 43-14 by Georgia last week.
The Tennessee offense is tied with Massachusetts for 106th best in the FBS. They are scoring just 23.6 PPG. Things are a little better on defense where they rank 50th overall. It would certainly help if the offense could get something going and get them off the field more often.
Mississippi State brought back to Earth by Auburn
It looked as if the Bulldogs might be a real contender after four weeks of football in which they started 3-1 and easily dispatched conference rival Kentucky by a score of 23-13. Then, they met Auburn and got to see what a true playoff team really looks like. Auburn led 42-9 at halftime and ended up drawing off to a 56-23 victory.
Now, they travel to Tennessee where they meet a foe searching for a soul and more importantly, a win which they can hang their hats on.
The Bulldogs must avoid going to sleep and thinking they are just going to show up and win the game. The job of every player and coach is on the line at Tennessee and that will show in the way they operate in this game.
New Hope for the Vols?
If there is a reason to be excited for Tennessee Volunteer fans and backers it might be true freshman QB Brian Maurer who took the reigns of the offense last week. The youngster passed for 205 yards in his first half as a starter.
Previous QB, Jarrett Guarantano, was able to muster more yds than that for a whole game (let alone a half!) just five times in 22 starts.
One of the first things that comes to mind when thinking of the Volunteers is pride and tradition. Perhaps they will summon their best stuff behind the strength of Maurer who will be eager to earn the praise of the crowd in this home game.
Tennessee was clearly outmatched by Georgia, but that isn't going to be the case against Mississippi State. This is a team, that if they do everything right, they can beat. Easier said than done, however.
Keeping Up in the SEC West
The Bulldogs technically aren't dead in the SEC West despite already losing a game. Granted, they need an almost perfect storm to get to the championship game. But, it could happen.
They must take care of business against the teams they're "supposed" to beat, like this one, and then play David to the Goliath of teams like Alabama and LSU. Is it unlikely?
Yes, very unlikely, But it could happen! However, that all ends if they lay an egg against the Vols.
Our Pick – Tennessee +7