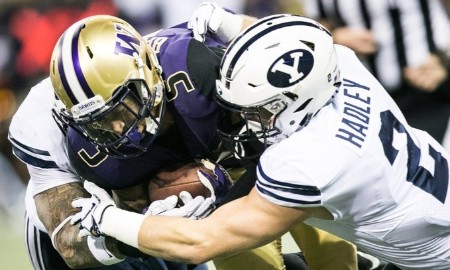 The Washington Huskies opened as -6 point favorites over BYU at betonline. That line was briefly driven up to -7 before an avalanche of BYU money brought the number all the way down to -5.5.
Washington bounced back nicely Saturday after a disappointing loss to Cal, with an impressive 52-20 win over a Hawaii team that had beaten two Pac-12 teams already and had Washington in their sights.
Jacob Eason, former 5 star recruit and transfer from Georgia, continued his strong start to the season with 3 more passing touchdowns and zero interceptions as the Huskies jumped all over Hawaii early with a 38-7 lead at halftime and cruised after that, easily covering the 22 point spread and nearly hitting the over 61 by themselves. 
BYU to Lean on RB Ty'Son Williams
BYU is coming into this matchup hot off another overtime win over USC last weekend, where they were 4.5 point underdogs and were able to force the young USC QB into throwing 3 interceptions in their 30-27 victory. 
I expect BYU is going to lean on their bell cow senior running back Ty'Son Williams, who has 236 yards paired with an impressive 5.5 yards per carry average, but will be going against Washington's strong front 7 who is only allowing 132 rush yards a game. 
This matchup is going to come down to smart quarterback play, as BYU's young signal caller Zach Wilson has looked much improved since facing Utah's stingy defense week 1.
Although he only has 2 touchdowns on the season, he has found a safety net in senior WR Micah Simon who had a career game two weeks ago against Tennessee (7 catches and 127 yards), but was held in check against USC coming up with only 3 catches for 48 yards.
It has been clear early on tight end Hunter Bryant is Eason's go to guy. He has 15 catches already this season, with his best performance coming last week, 5 catches 115 yards and 1 touchdown that came on a 47 yard score just 3 plays into the game. 
BYU Seeking Revenge
BYU is looking for payback after last year's 35-7 loss to Washington. Former Washington QB Jake Browning picked BYU apart going 23 of 25 for 277 yards and 1 TD. They had a shutout going against BYU until Washington muffed a punt return and BYU scored with 41 seconds left in the 4th. 
BYU will have to score early and often to keep up with the passing attack that Washington has shown so far this year. The notion of being underdogs is nothing new to BYU as they have been underdogs for all 3 of their games so far and have won 2 of them straight up.
Once again marked as underdogs, Washington is favored by 6.5 points this week at Provo which is always a tough place to play. But BYU hasn't faced an offense like Washington yet this season, the balanced attack paired with a notoriously stingy defense will be a tough matchup.
Our Pick – We latched on to this BYU team right from the get go. We've used them 3 weeks in a row as a Key Release, going 2-1 with those plays.
We like this team and have all the respect in the world for the program for taking on such a difficult schedule.
It's tough for any college football team to "get up" for such big games week after week without hitting an inevitable flat spot. Is this week going to be a flat spot for BYU?
We're going to hold off on making an official pick on this game for now, but will tell you our model likes Washington to cover the spot.