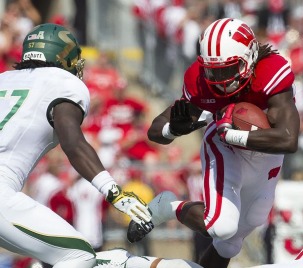 The Wisconsin Badgers head South to take on the South Florida Bulls in week 1 college football betting action. Wisconsin is a -10.5 point favorite and is drawing the majority of the early money.
The Badgers finished 8-5 overall capped with a 35-3 Pinstripe Bowl win over Miami Florida. Against the spread they didn't do their backers any favors going 4-9. When they were favored it was even worse, compiling a 2-7 against the spread record in that role.
After a 10-2 2017 season for South Florida, the Bulls came out of the gate on fire and roared to a 7-0 record. They then proceeded to drop 6 in a row, including a loss to Marshall in the Gasparilla Bowl.
As is typically the case when a team over achieves the previous year, the Bulls also fell flat against the spread. They were 4-9 ATS including a record of 1-6 against the spread at home.
Our Model Says Wisconsin by 17
Using data from last year our model is pretty consistent with it's score predictions regardless of the time frame parameters used. The predicted margin is right around 17 points in favor of Wisconsin.
The model has it right in terms of what "should" happen. If these programs play each other 10 times, Wisconsin should win 9, if not all 10. It goes back to a topic we touch on frequently, especially when handicapping early season college football and that's recruiting.
Games like this are huge risks for big time college football programs. They have absolutely nothing to gain and everything to lose. It's like a boxer taking a tune up fight.
South Florida has everything to gain and nothing to lose. They'll be sky high to prove they can play with the big boys and the game is at home under the lights which only adds to the motivation.
Emotion is huge in college football. As are other handicapping factors such as one team looking ahead or coming off a grueling game the previous week.
Talent Alone Decides This Game
However, other than the South Florida emotion angle that comes with playing a high profile program, none of those other factors come into play here. For example, Wisky plays Central Michigan next week. Hardly a look ahead. There's also no scheduling factors, this being game #1.
With that in mind, we have to handicap this game strictly on talent and the talent is on the Wisconsin side. They should control both lines of scrimmage and ultimately the game.
We don't like when we're on the same side of the general betting public, but at the same time, the public wins their share of bets too. We're with them here.
This pick write up was done in July. It's best to keep an eye on the line and perhaps get a better number than what is currently being offered.
Our Pick – Wisconsin -10.5