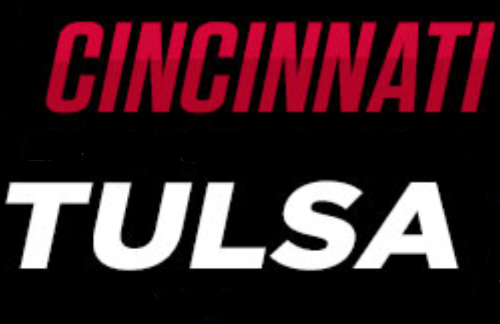 Cincinnati is undefeated and still has a long shot of making the College Football Playoff, but it will need some help. Not to mention, last week's game was canceled because of COVID-19 concerns, so that's another issue.
For the AAC Championship Game, the Bearcats are early -14 point home favorites with a total of 45.5.
Both Teams Undefeated In Conference Play
Cincinnati and Tulsa are undefeated in conference play, while every other team has at least three losses. Tulsa wasn't expected to be in this spot and somehow doesn't have a conference loss despite having five of its games postponed throughout the season.
Its most impressive wins are against UCF and SMU, while most of their other wins are nothing exciting. That's seen in their last game at Navy in which they won 19-6 against a team near the bottom of the standings.
The stand out unit in this matchup is the Cincinnati defense, which is barely allowing 300 yards and 15 points per game.
The Bearcats have dominated everyone but UCF who managed 33 points against them a few weeks ago. Even then, their defense was stout, allowing just 5.0 yards per pass and 3.3 yards per carry. 
That's where the questions start for Tulsa because while it's undefeated in conference play, it hasn't played a decent defense since the opener against OK State when it scored seven points.
Quarterback Zach Smith Key for Tulsa
The Hurricane are averaging a mediocre 27.7 points per game and don't do one thing overly well. Quarterback Zach Smith has been fine, averaging 7.7 yards per attempt for 11 touchdowns and six interceptions.
He'll likely be needed if Tulsa want to score because it's expected Cincy's rush defense, which is allowing 3.1 yards per carry, will control the line of scrimmage. Tulsa have used three running backs throughout the year with Corey Taylor getting the most work the last couple games.
He leads the team with 5.2 yards per carry, but none of Tulsa's running backs have more than 356 rushing yards in total.
Cincinnati should also have an edge on the other side of the ball even though Tulsa has held strong this season, allowing less than 20 points per game. They haven't been dominant, but they've done enough against top offenses, namely keeping UCF below 30 points. 
Bearcats Average 41 Points Per Game
The Bearcats haven't really been stopped yet, averaging 40.9 points for the season. Quarterback Desmond Ridder hasn't been needed to rack up passing stats, though he's averaging a solid 8.5 yards per pass for 16 touchdowns and six interceptions.
That's because the offense is more built around the rushing attack, where Ridder leads with 7.9 yards per carry and 11 touchdowns. Combine that with Gerrid Doaks and his 4.8 yards per carry, and that's enough to beat most AAC teams, especially with their defense.
Tulsa is playing well and should put up a fight, but its offense hasn't played a legit defense since the opener. That's where the problems could start and if the Bearcats score their usual amount of points, it could be another easy AAC win for them and a possible chance in the CFP.
Of course, COVID-19 remains a concern and any players missing should be monitored ahead of the game.
Our Pick
To be clear, Tulsa is no joke. They beat UCF earlier in the year by 8, though they did allow 455 total yards and 5.4 yards per play in that game. The Bearcats beat UCF by just 3, but managed to hold UCF to 359 total yards and 4.3 yards per play. They also possed the ball for 37 minutes.
Our model has Cincinnati winning this one by 16 or 17, so, just barely covering. But we think there will be added motivation to run this score up if the opportunity presents itself as this will be the Bearcats last opportunity to demand consideration for the playoff spot.
Cincinnati -14