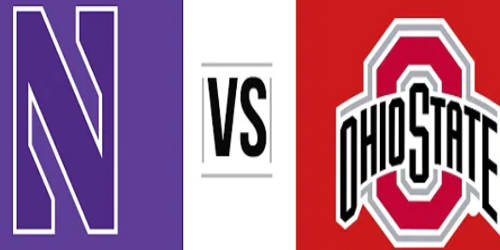 Northwestern didn't have to win last week, but it took care of Illinois pretty easily and now gets the task of Ohio State in the Big Ten Championship.
In addition to not playing last weekend, Ohio State has played two fewer games this season. The Buckeyes opened as -20 point favorites (now -21) with an over/under of 58 for the game at Lucas Oil Stadium.
When these teams met two years ago in this spot, Northwestern put up a fight, but Ohio State still covered in a 45-24 win. Last year, it was a bit worse as the Bucks won 52-3 in a game that was never close. This one is expected to be closer to the final from two years ago when the Wildcats were led by defense.
Northwestern's Defense Holds the Key
The lone way for Northwestern to win is by allowing less than 30 points, which only one team has been able to do against OSU the past two seasons. The Wildcats have some of the best numbers in the country, allowing 14.6 points and just over 300 yards per game.
Of course, they've played a lot of mediocre Big Ten teams and also lost 29-20 against a bad Michigan State team. While the Wisconsin win looked nice at the time, the Badgers now have a losing record.
Not many will want to bet against Justin Fields in this spot even after a shortened season. Through five games he's completing almost 80% of his passes for 15 touchdowns and three interceptions on 10.3 yards per attempt.
Garrett Wilson and Chris Olave are the only guys catching passes but that hasn't mattered, as they're both above 500 yards with five touchdowns a piece.
The ground game is less certain between Master Teague and Trey Sermon, though the latter is averaging 6.3 yards per carry and Fields also helps in that aspect.
OSU's rushing attack isn't as dominant as prior seasons and if Northwestern can at least contain that, they'll only have to worry about Fields.
Northwestern Offense A Question Mark
The question is what Northwestern can do on the other side of the ball because while it's winning via defense, it hasn't scored more than 30 points since the opener.
Even after rushing for 411 yards on 7.1 yards per carry against Illinois last week, the Wildcats still have mediocre rushing numbers, averaging 3.9 ypc as a team with no running back over 260 yards.
Quarterback Peyton Ramsey has been somewhat sub par, averaging 5.8 yards per pass for nine touchdowns and six interceptions. 
Even though OSU has had some bad defensive performances, it's hard to see Northwestern capitalizing on that front. The best method for NW to attack would be through the ground game and that'll be far from easy because OSU is allowing just 3.4 yards per carry.
The Wildcats have used defense to beat up on a bad conference, but that's not going to work in this matchup. The Bucks have an edge on both sides of the ball and should have no problems in this game unless Ramsey and the Northwestern offense shows something new.
Our Pick
As mentioned, the knock on Northwestern is that although their numbers look great, they beat up on weak Big 10 teams. But guess what? So did Ohio State!
Northwestern has a legitimate defense to match up against one of the most lethal offenses in college football.
We expect Northwestern to make a game of this for at least 30 minutes. if the game ends up getting out of hand, it will likely happen in the 2nd half.
With that in mind, we'll split out wager up into two, and take Northwestern in the 1st half AND in the game, hoping they can stay within the margin. Hey, it's 2020, anything can happen!
Northwestern +11 1st half
Northwestern +21 for the game