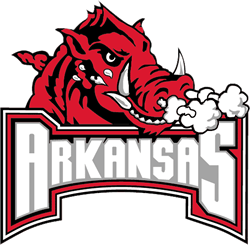 After another miserable season, change was needed at Arkansas and that's where Sam Pittman comes in. He's never been a head coach at the highest level, but he's served in numerous assistant roles and recently coached dominant offensive lines at Georgia.
With the help of a decent schedule, the Razorbacks had an early preseason over/under of 3.5 wins, though their +500 to 1 odds to win the SEC were again last in the conference.
In addition to Pittman, both coordinators bring some excitement. Kendal Briles takes over the offense after spending one year at Florida State, Houston and Florida Atlantic each of the last three seasons.
Felipe Franks to the Rescue?
Following a campaign that saw Arkansas average 340.1 yards and 21.4 points per game, something has to change. Florida transfer Feleipe Franks is the expected quarterback, but he has plenty of competition behind him after not getting a full spring of work.
Franks had some sparks with the Gators, but an injury last year eventually led to a transfer. Helping him is a line that returns four starters with decent depth to go with Pittman's expertise. The line may not be elite, but it should be better than last season.
Maybe most important for the offense is the return of running back Rakeem Byrd after he ran for 1,133 yards and eight touchdowns on 6.2 yards per carry. Those are impressive numbers considering this team had no passing game last season, throwing 15 interceptions to 14 touchdowns.
Franks has plenty to work with in the passing game between Treylon Burks (475 yards), Mike Woods (423 yards), Trey Knox (385 yards) and incoming tight end Hudson Henry. 
Defense Could Be Worse
The defense probably has more work to do under coordinator Barry Odom. The former Missouri head coach has to revive a group that loses its best players after allowing 450.7 yards and 36.8 points per game.
At the least, there are players with experience and newcomers like Clemson transfer Xavier Kelly to help on the line. End Dorian Gerald is a highlight after missing most of last season with an injury, while Bumper Pool and Grant Morgan are nice starting pieces at linebacker if they can stay healthy.
The secondary returns a slew of starters like cornerback Montaric Brown, but they have a lot of improvement to do and nothing is guaranteed.
Razorbacks Have Lost 19 Straight SEC Games
Arkansas may only have three true road games, but that doesn't really matter if it can't win games at home, especially with limited capacity likely. The biggest thing for Pittman will be to get his team ready for the opener because three losses after the Nevada game are likely.
The Razorbacks have three decent chances for wins in non-conference play with that Nevada game included, but they've lost their last 19 SEC matchups. Their best chances this season will be home games against Tennessee and Ole Miss, as well as the neutral-site game against Missouri.
While reaching four wins is possible because of schedule, it'll be hard for this team to show massive improvement given the limited offseason. Unless Franks and the offensive line really turn things around, it'll be hard to bet on the Hogs this season. 
2020 Arkansas Razorbacks Schedule
Sept. 5 vs. Nevada
Sept. 12 at Notre Dame (early preseason line ARK +17)
Sept. 19 at Mississippi State
Sept. 26 vs. Texas A&M (AT&T Stadium, Arlington) (ARK +19)
Oct. 3 vs. Charleston Southern
Oct. 10 vs. Alabama
Oct. 17 vs. LSU
Oct. 31 vs. Tennessee
Nov. 7 at Auburn
Nov. 14 vs. Ole Miss
Nov. 21 vs. UL Monroe
Nov. 28 vs. Missouri (Arrowhead Stadium, Kansas City)