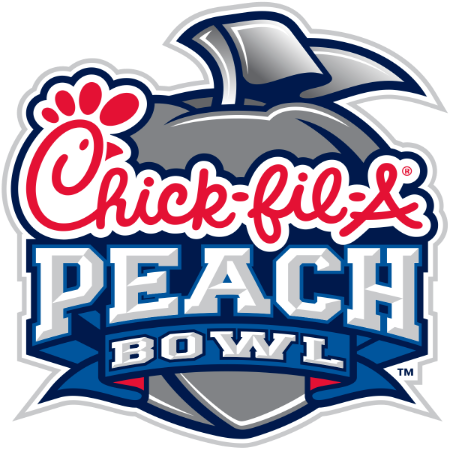 #9 Georgia Bulldogs (7-2 4-5 ATS) vs. # 8 Cincinnati Bearcats (9-0 5-4 ATS)
In the Peach Bowl between two top 10 teams, Cincinnati is the underdog and looks to finish the season undefeated facing Georgia. Georgia is a 7-point favorite in this bowl game with a total of 50.5.
The public has slightly backed Georgia in this game, as they opened as a 6.5-point favorite, and as of Monday, December 28, they are a 7-point favorite.
Georgia Losses – Florida and Alabama
Georgia finished the season with only two losses, which came against Alabama and Florida. They gave up a lot of points in those games but on the season the team had a solid defense giving up an average of 19.9 ppg. They are balanced on offense and averaged 33.2 ppg.
Cincy finished the season unbeaten but was left out of the College Football Playoff not playing in a major conference. They did beat two ranked teams but they were Army and Tulsa.
The Bearcats were also balanced on the season averaging 39.3 ppg and giving up an average of 16 ppg. They are led by their ground game, which ranked 14th in the nation averaging 225 rushing yards per game.
These teams have only met once and that was way back in 1976.
UGA is 6-1 ATS in their last seven bowl games while Cincy is only 1-4 ATS in their last five bowl games.
Nice Tune-Up
Georgia had the last game of the season canceled due to COVID-19 but in their last game, they laid a 49-14 road beat-down on a ranked Missouri team. In winning their last three games of the regular season the Bulldogs outscored their opponents 125-44.
The Bulldogs have used three QB's this season with Stetson Bennett (1,167 yards 8 TD 6 INT) and JT Daniels (839 yards 9 TD, 1 INT) getting the most action.
I would think Daniels would get the start in this game, as he has been the better passer and has 5 TD and one INtT in his last two games.
Zamir White led the Bulldogs with 740 yards and 10 TD averaging 5.6 yards per carry but the Bulldogs had three other backs that rushed for at least 218 yards. Kearis Jackson (467 yards) leads a good group of WR's where the top four had at least 225 yards.
The Bulldogs rushed for 316 yards and 332 yards, respectively in their last two games. They will face a Cincy run D that was solid on the season and only gave up an average of 122.1 rushing yards per game but did give up 166 rushing yards in their last game of the season.
Shaking the Rust Off
Cincinnati had their last two games of the regular season canceled before beating a ranked Tulsa team in the AAC title game.
The big matchup in this game is Cincy's solid run game facing a UGA run defense that led the nation only giving up an average of 69.3 rushing yards per game.
Gerrid Doaks (673 yards 7 TD) led the Bearcats in rushing yards but only rushed for 13 yards on seven carries in the Tulsa game. The team's second-leading rusher is QB (609 yards 12 TD) rushed for 83 yards in the Tulsa game and this duo has a tall task facing a dominant Bulldogs run defense.
Ridder passed for 2,090 yards with 17 TD and 6 INT and had six TD and no picks in the last three games. Six Cincy players have at least 202 receiving yards led by WR Josh Whyle (318 yards 5 TD).
While UGA led the nation in run defense and only gave up an average of 2.3 yards per carry their pass defense only ranks 90th, so Ridder may have to shoulder the load through the air.
Our Pick 
No shortage of intrigue here. An undefeated AAC team taking on a mighty 2 loss SEC power. Plenty of talent to go around.
To be clear, on paper, Georgia is one of the most talented teams in the country. There is simply no comparing these two teams when it comes to recruited talent.
With that said, it needs to be noted that several Georgia players have opted out of this game. It's a long list, but just about all of them are ranked in the top 10 at their positions for the upcoming NFL draft.
Of course, even when that happens to a team like Georgia, the kids stepping into to fill the void are also highly recruited and will also likely be ranked in the top 10 at their position when the time comes.
Not surprisingly, as of this writing the Bearcats have no opt outs.
Plenty of Precedent for an Upset
There's plenty of precedent for a team like Cincinnati to come in and give a traditional power like Georgia the game of their lives.
How about UCF? They beat Georgia 10-6 in 2010. In 2013 they beat Big 12 Champ Baylor. In 2017 they knocked off Auburn and then in 2018 they lost a 40-32 shootout to LSU.
Boise State also comes to mind. Who could forget their 43-42 OT win over Oklahoma on New Years Day in 2006.
There are concerns, of course, backing Cinci here. For one, there are no big names on their dance card this past season. No signature wins against a major power. With few exceptions, it's a fairly weak schedule they played.
However, they did do what a good team does to a weak schedule, and extended margins in most of those games.
Considering the opt outs along with the built in motivational edge Cincinnati has in this spot, we're going to back the Bearcats here in a game in which many of these kids will be playing the BIGGEST game of their lives.
Cincinnati +7