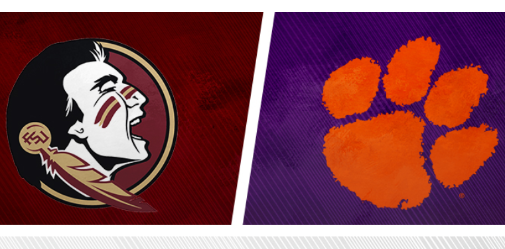 It may not matter in the end, but this is Clemson's first game following its loss against Notre Dame two weeks ago. The Tigers are looking for a huge rebound with Trevor Lawrence at quarterback again and they opened as -34.5 point road favorites with an over/under of 67.5
Bet the game at MyBookie and get a 100% Bonus!
Florida State got its win against North Carolina a few weeks ago and it seems like everything they had went into that game. The Seminoles have lost their other six ACC games, each of the last five being by at least 16 points.
While they're playing at home, there are few positives to take away from this team with the lone hope being that they play up for this matchup, similar to that win against UNC.
Jordan Travis Leads Seminoles 
Quarterback Jordan Travis has given a minor spark to FSU, but most of it has come on the ground where he leads the team with 469 rushing yards and six touchdowns. That would be good except he's also completing 52.2% of his passes for four touchdowns and five interceptions.
Their running backs have been decent with Jashaun Corbin expected to get most of the touches in this contest, but it'd be a surprise if they managed to average more than five yards per carry against Clemson.
Still, because of Travis's mobility, there's a chance FSU comes close to 20 points, which could be enough for the cover.
Clemson Defense Not As Dominant
Clemson hasn't been as dominant defensively as prior seasons, which is why it lost to Notre Dame, and even at its peak last season, it won this matchup 45-14. Given the huge spread this time, it wouldn't be surprising to see money on the underdog, especially playing at home.
The Tigers should be set for at least 40 points, but that doesn't guarantee a cover. Though, it's a wonder if Lawrence will want to pad his stats after missing a couple games because of COVID-19.
Through six games, he's averaging 9.6 yards per attempt for 17 touchdowns and two picks. Receivers Amari Rodgers and Cornell Powell have been great, but do-it-all running back Travis Etienne is the rest of the offense with 634 rushing yards, 491 receiving yards and 12 total touchdowns. 
Clemson on Track for 40+
The Seminoles have given up at least 38 points in each of their last three games and there's no reason to think that trend will stop. They're allowing close to 200 rushing yards per contest, which means Etienne should find plenty of holes in addition to whatever Lawrence wants to do.
That's how it went in last year's matchup as Lawrence only threw for 170 yards while the Tigers ran for 320 yards as a team. After going up 28-0 in the first half, they kind of took their foot off the pedal.
But again, coming off a loss, there's a chance they keep their foot on the pedal this game. It's reasonable to back FSU because of the large spread, but then you're betting against a hungry Clemson team who has been waiting for a rebound.
Clemson -34.5