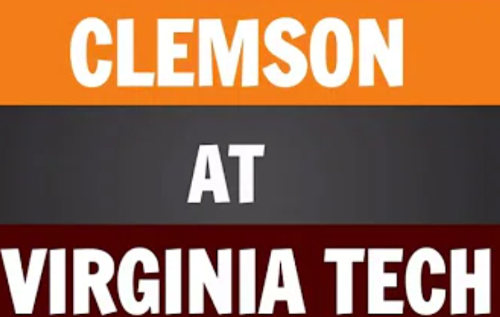 Clemson has its eye on the ACC title game and then another College Football Playoff appearance, but before that, Virginia Tech is in its path. The Tigers returned to the field last week and left no doubts about their abilities after losing to Notre Dame. They opened this matchup as -21.5 point road favorites with an over/under of 66.5.
The last opponent for each of these teams is Pittsburgh. Clemson beat them 52-17 last week and had no problems, while Virginia Tech lost to them a couple weeks ago 47-14. It's quite the contrast for these teams and those scores will give no one faith in backing the Hokies.
They've had some good games this year and have been mostly competitive, but that Pittsburgh game was a problem. As a positive, they're averaging 33 points per game and have played well against teams like UNC and Miami, despite losing both.
Hendon Hooker Key for Hokies
Quarterback Hendon Hooker is the biggest wild card because he's the one guy who could get the cover for the Hokies. He's averaging a solid 8.9 yards per pass and rushing for 5.4 yards per carry, but he leaves a lot to be desired. While he has nine rushing touchdowns, he has the exact same total passing the ball to go with five interceptions.
Running back Khalil Herbert has been awesome, averaging 8.2 yards per carry for 924 yards, but as seen in the Pitt game, sometimes that's not enough. In need of points, VT couldn't run the ball every down and Hooker's inconsistencies through the air weren't enough to keep scoring.
Everything will be up to Hooker against what has been a vulnerable Clemson defense. They're allowing less than 300 yards per game, but the defense is the reason they lost to Notre Dame.
The front isn't as good as previous seasons and that's where Hooker could benefit. However, if Clemson get out to an early lead, VT will be forced to pass from the start and that's not what Hooker wants to do. 
Tech "D" giving up 33 PPG
The Hokies are allowing 463 yards and 32.6 points per game, which isn't going to cut it against Clemson. Trevor Lawrence returned last game and continued how he started the season, now completing 70.6% of his passes for 9.8 yards per attempt, 19 touchdowns and two interceptions.
He has solid receivers in Amari Rodgers and Cornell Powell, but running back Travis Etienne is the one problem every defense has. In addition to averaging 5.2 yards per carry for 12 touchdowns, he has 40 receptions for 511 yards and two more touchdowns.
Even with a backup quarterback this offense was explosive and there's a likely chance they surpass 40 points again, as they're averaging 46.1 for the season.
This game could go similar to last weekend for Clemson with Lawrence and Etienne getting the team out to an early lead, forcing Virginia Tech to go pass-heavy in order to try and keep things competitive. That's not what Virginia Tech wants to do with Hooker at quarterback and it could lead to another fairly easy win for the Tigers. 
Our Pick
Tech has had success moving the ball on the ground. In fact, they are 3rd in the nation in rushing yards per attempt. If they can have some success here it would go a long ways towards keeping this margin manageable.
That's a big if though, considering the Clemson rush defense is one of the best. But we'll go out on a limb here and do a small LEAN towards Virginia Tech getting 22.5.
Virginia Tech +22.5