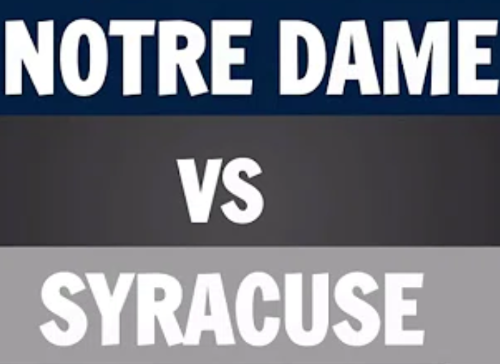 Notre Dame appears to be on a crash course with Clemson for a rematch in the ACC title game. The Fighting Irish took care of UNC last weekend and now get one of the worst teams in the conference in Syracuse, sitting at 1-9 overall. The Irish opened as -33 point home favorites with an over/under of 51.5.
Notre Dame handled UNC, one of the better teams in the ACC, in what was a thoroughly convincing win. The Irish dominated both lines of scrimmage, which has been the case all season, and that was all they needed.
They ran for 199 yards on 5.5 yards per carry, while they held the Heels to just 87 rushing yards on 2.9 yards per carry. That defensive front is a good reason to expect another dominant win for the Irish.
Syracuse Offense Weak
Syracuse is averaging less than 20 points per game and was shut out by Louisville in its last road game. Nothing has gone right for the Orange offense, averaging a miserable 2.7 yards per carry as a team, mostly because their quarterbacks have been sacked 37 times.
Running back Sean Tucker is at 4.6 ypc, but it's not like he's going to break the game open. Quarterback Rex Culpepper started last game, but his numbers aren't much different than prior starters, as he's completing less than 50% of his passes for eight touchdowns and seven interceptions.
Culpepper may lead the way for a touchdown or two, but it won't be enough to stay competitive. The question is if it'll be enough to get the cover.
Irish Offense Humming Along
The Irish may not have the most explosive offense, but they've been humming along and can move the ball in a number of ways. They've been able to run the ball against everyone with Kyren Williams averaging 5.6 ypc for 901 yards and 12 touchdowns, while quarterback Ian Book has 412 rushing yards and six touchdowns on 5.0 ypc.
Combine that with the efficient Book, who is averaging 8.4 yards per pass for 12 touchdowns and one interception, and it's hard to see this offense not surpassing 30 points.
The Orange gave up 36 points to NC State last contest and the last time they played an elite team, they lost 47-21 to Clemson. They don't do one thing well, giving up 31.5 yards and just over 200 rushing yards per game. That's not going to cut it against Notre Dame, who could lean on Williams all game and that would be enough to cover.
The size of the win will depend on what Culpepper can do against the Notre Dame defense. If he has time to throw, which hasn't been the case all season, there's a chance Syracuse could come close to 20 points, but if not, it wouldn't be surprising if they struggled to reach 10.
Given the records, most of the money will come in on the Irish and that's not going to change throughout the week.
Our Pick – OVER 51.5