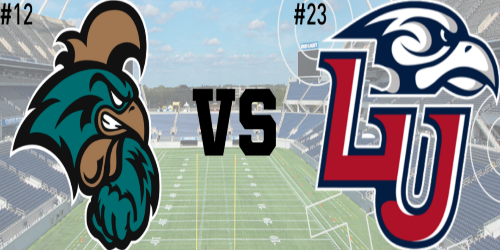 Coastal Carolina will take on Liberty in the Cure Bowl on Saturday, December 26th. The undefeated Chanticleers are favored by -7.5 over one loss Liberty, with a total of 59.5.
Bet the game at top rated Betonline!
There are 3 bowl games on the day after Christmas, but this is the one that stands out due to the season each team had.
Coastal Carolina Undefeated
Coastal Carolina went undefeated and participated in what many feel was the college football game of the year when they knocked off BYU in a game that wasn't even scheduled until Thursday of that week.
That game was their signature win of course, in what was otherwise a fairly weak schedule. It should also be noted that they trailed a mediocre Troy team with a minute to go in their final game of the season, needing a late score to win and stay undefeated. They also gave up 400+ yards to Troy. A letdown game, perhaps, but still worth noting.
Liberty's Season Equally Impressive
Liberty had a fantastic year as well. They knocked off Virginia Tech and in their only loss of the season, dropped a one point 15-14 decision to North Carolina State.
The North Carolina State game can be used as an argument in favor of Liberty in this game, when you take into account what NC State did this year. They beat Wake Forest, Virginia and Pitt and lost by 3 to Miami. So can Liberty compete here against Coastal? Of course.
Here is what our model has to say about this game. The 1st score uses full season data. The 2nd score uses only data from the last 4 games and the final score uses the last 7 games.
Liberty                   59.5          20   NEUTRAL 
Coastal Carolina          -7.0          33
  
Liberty                   59.5          17   NEUTRAL 
Coastal Carolina          -7.0          24
  
Liberty                   59.5          17   NEUTRAL 
Coastal Carolina          -7.0          32
We seem to get into trouble when we go against our model. As you can see, the model has a clean sweep across the board of Coastal Carolina winning by 7 or more regardless of the time frame parameters used.
Our Pick
Going with what you *think* as opposed to what the numbers suggest, is not something we'd necessarily advise. However, that is what we are going to do in this spot.
The feeling here is that what Liberty was able to do against NC State and Virginia Tech is more than enough to suggest that they can not only compete here, but can also win.
With that in mind, we'll buck our own model and take +7.5 with Liberty and we'll also lean towards the UNDER 59.5.
Liberty +7.5
Lean UNDER 59.5