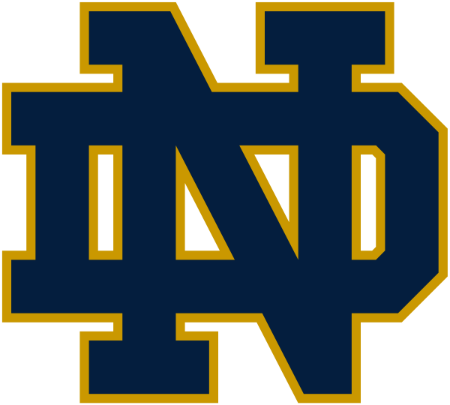 Seeing Notre Dame in the ACC football standings is kind of weird, but after a few seconds, it's almost normal. The Fighting Irish are competing in the ACC this football season, similar to what they already do in basketball.
Duke is the first victim and probably isn't happy about it as its original schedule opened with three favorable matchups. Instead, Notre Dame were up to -19.5 point home favorites with an over/under of 53.5 a week before the game at 5Dimes and Bovada.
The Irish Dominated Duke in 2019
It'll be hard to back Duke in this spot after what happened last year, a 38-7 result going to the Irish. Notre Dame did whatever it wanted on both sides of the ball as Ian Book threw four touchdowns and also ran for 139 yards.
In comparison, Duke had just 102 passing yards and 95 rushing yards as a team. With less than half of their starters back on the defensive end, there's no reason to think the Blue Devils will win that matchup.
Ian Book Returns
Quarterback Ian Book returns for another season and is in a lot of Heisman discussions after posting a solid junior campaign. He finished with 34 passing touchdowns and six interceptions, as well as 546 rushing yards and six more touchdowns.
With the majority of the offensive line returning, this group should be just as good after averaging close to 40 points per game.
The lone questions for the Irish are who the top skill players will be. Jafar Armstrong is expected to lead a committee in the backfield, while Javon McKinley and Braden Lenzy are the top returning receivers and they combined for 22 catches last season.
Of course, skill players may not matter for Notre Dame with the quarterback and offensive line being some of the best in the country.
Duke Defense New Front 6
Duke's defense had its moments last year, but it also couldn't do anything in this matchup and also gave up 40-plus points to teams like Virginia and Syracuse. With a mostly new front six, there's a decent chance Notre Dame runs right through them.
The best chance for a Duke cover is if the offense figures things out after averaging just 25.3 points per game last year. It's usually not a good idea to doubt head coach David Cutcliffe, but he has his work cut out for him.
The hope is that Clemson transfer Chase Brice is the answer at quarterback after he tossed nine touchdowns and four picks the last two years as a backup. The pedigree is there, so the offense should be better than last season, at a minimum.
The line lost its stud center to injury in preseason, which doesn't help, but the skill players are experienced. With Deon Jackson in the backfield and the duo of receiver Jalon Calhoun and tight end Noah Gray, the players are there to help Brice succeed.
The question is what Duke's offensive line can do against Clark Lea's defense, which has been one of the best in the country the last two seasons, allowing less than 20 points per game last year.
Duke Offense Could Have Success 
If Brice gets time in the pocket and Duke moves the ball somewhat on the ground, it should be able to post more than the seven points it had last meeting. The issue comes on the defensive end because Notre Dame could reach close to 40 points again.
If that's the case, Brice will need to reach close to 20 points in his debut, which isn't a lot, but it's a significant amount if he's under pressure all game.
Given the weird offseason, most people will flock to the better team in this matchup, which means the number will likely go up for the Irish and they'll possibly be three-touchdown favorites ahead of the game, something to monitor if you like the Blue Devils and their new quarterback.
Our Pick
Our model using data from all of last year has Notre Dame on top by a score of 39-15. Considering these two did in fact play last year and ND won 38-7, I'd say our model is pretty damn accurate.
The Irish once again figure to be a force and should be equally as good as a year ago. The Blue Devils figure to show improvement and the offense led by Brice could be the key.
We think there is a bigger disadvantage for road teams in this COVID-19 football season. There are far more distractions than usual for those teams.
However, the equalizer comes with the fact that there are no crowds, or sparse crowds at these games. Seeing the Irish play in an empty stadium will be just plain strange.
We've seen a few -20'5's on the board as of this writing a week before the game. We would not be surprised to see -21 or higher as the Irish figure to draw plenty of backers.
Duke has the potential here to be a live dog if that offense and Brice can get things moving. With that in mind, we'll take Duke at +21 or better in this spot.