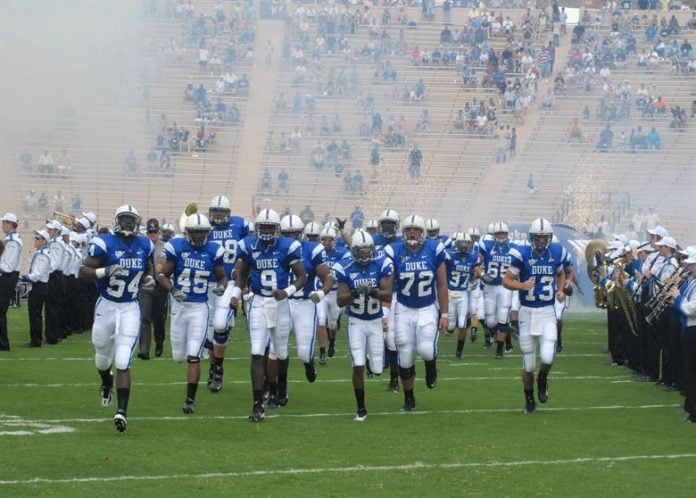 Duke is coming off a rare losing season under David Cutcliffe, the first since 2016. Despite starting 4-2, the Blue Devils hit a rough patch in the schedule and couldn't recover, at one point losing five straight games.
With a new quarterback in tow, they'll hope to return to a bowl game in 2020, though the odds aren't favorable. Along with 1000 to 1 early preseason odds to win the National Championship, they had an over/under of 5.5 wins at most sites.
Chase Brice – Clemson Transfer QB
While they're breaking in a new quarterback, the Blue Devils at least have some excitement as long as Chase Brice opens the season under center. The Clemson transfer attempted 136 passes behind Trevor Lawrence and if he acclimates to his new team, should start the first game, mainly because his competition is a slew of inexperienced options.
Even then, it's not like he's replacing a high-end option, as Quentin Harris was more lethal with his legs than passing the ball. The goal will be to improve the rushing attack which averaged just 3.6 yards per carry.
The top three linemen return to go with the final season for running back Deon Jackson, who managed just 641 yards and six touchdowns last year. While some receiving talent is gone, Jalon Calhoun (420 yards) and tight end Noah Gray (51 receptions) could again lead the team on that front.
Duke was all over the place offensively last year averaging just 25.4 points per game and while that'll more than likely be the case in 2020, they could be a better passing team if Brice works out. Not to mention, the ground game should only improve if the line gets to another level.
Defense Likely Weak
It may be harder for the defense to improve after losing its top two tacklers from a group that gave up 29.2 points per game.
At the least, there are returning starters who can pick up production, namely safety Marquis Waters and linebacker Brandon Hill. Throw in seniors Victor Dimukeje, Derrick Tangelo and Drew Jordan on the line and upcoming playmakers like linebacker Shaka Heyward and recently healthy cornerback Mark Gilbert, and there are reasons to think improvement is possible.
If Gilbert can return to an All-ACC level after missing last year with injury and Heyward can be a force with Hill, this group could be in a better position to succeed.
The good news for the Blue Devils is that they don't open the season with Alabama again. In fact, they should get out to another winning record and start 3-0 if things work out as expected.
Yet again, they get a favorable draw from the Atlantic division, highlighted by a home game against Wake. If they can win that one along with home contests against UNC and either Virginia school, that'll be enough for a bowl.
Not to mention, upsets are always possible on the road in ACC play because of how inconsistent every team is. The Blue Devils have an over/under below six wins, but the schedule is manageable and if Brice is the answer at quarterback, the tools are there to return to a bowl game.
2020 Duke Blue Devils Schedule
Sept. 5 vs. Middle Tennessee State
Sept. 12 vs. Elon
Sept. 17 vs. Charlotte
Sept. 26 at Pittsburgh (early preseason line DUKE +9.5)
Oct. 3 vs. Wake Forest
Oct. 10 at NC State
Oct. 17 vs. North Carolina
Oct. 31 at Notre Dame
Nov. 7 at Georgia Tech
Nov. 13 vs. Virginia
Nov. 21 vs. Virginia Tech
Nov. 28 at Miami (FL)