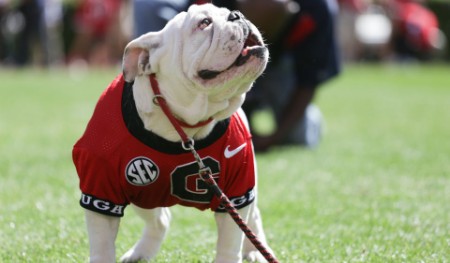 It doesn't feel right to get a Georgia and Alabama matchup in the middle of the season with both still undefeated. The college football slate as a whole isn't overly enticing, but this matchup makes up for it.
The Crimson Tide, playing at home, opened as -7 point favorites at BetAnySports however early bettors pounded Georgia forcing the line to move all the way to -4. The total is 56.5.
Georgia Seeks Revenge
These teams last played two seasons ago when Alabama won 35-28 in the SEC Championship game off the back of 21 unanswered points. Georgia has been looking for revenge since that loss, but this is its first chance, mainly because LSU ran through the SEC last season. 
This matchup is a bit different, mainly because there are still plenty of unknowns about each team. Both are undefeated, but Alabama's defense has been mediocre at best while Georgia's offense is in the same situation.
Given iffy schedules for both teams, it's unclear where both stand on a national scale, though it wouldn't be surprising if they met again in the conference title game.
Georgia Defense Among Best
Georgia's defense has picked up where it left last season and is allowing just 237 yards and 12.3 points per game. A lot of that has to do with competition, but that doesn't stop the Bulldogs from probably having the best defense in the SEC. 
As for the Crimson Tide, they've run through three sub par defenses with Mac Jones leading the way, averaging 13.3 yards per attempt for eight touchdowns on 79.5% completion.
He hasn't had any issues, partly because his receivers are faster than anyone else on the field between Jaylen Waddle, DeVonta Smith and John Metchie. That trio of receivers may be the best in the country with Metchie breaking out the last couple games, averaging more than 27 yards on his 11 receptions.
Then there's still a dominant ground game led by Najee Harris, who ran over Ole Miss last week en route to 206 yards and five touchdowns. Through three games he's averaging 6.7 yards per carry for 347 yards and 10 touchdowns.
This will be a fascinating matchup because Georgia's front has been a force, allowing less than 40 rushing yards per game. If Harris can't go anything going, it'll be up to Jones to continue to sling it. While that could work, this defense is completely different than the first three Jones has faced.
Georgia Offense Unimpressive
There are similar unknowns on the other side of the ball because Georgia quarterback Stetson Bennett hasn't really been asked to do too much, averaging 8.2 yards per pass and a 63.2% completion rate for five touchdowns and 689 yards.
He's been fine as a game manager, but if Alabama gets out to an early lead, he'll be asked to do something he hasn't done all season, which is put up points when his team is losing. 
The good thing for Georgia is that Alabama's rush defense has had some issues, most recently allowing 268 yards on 4.7 yards per carry to Ole Miss. If the Tide don't score early, the Bulldogs will likely lean on running back Zamir White, who has somewhat disappointed with 209 yards and four touchdowns on 3.9 yards per carry.
Georgia's ground game has usually been dominant, but something hasn't worked in early games. If they change that in this matchup, they'll be in business.
There are questions on both sides of the ball and with Alabama playing at home, it'll be hard to go against Nick Saban's team.
The Bulldogs may have an elite defense, but they may have to carry this game if Bennett falters under the pressure. That said, there's a chance this game is close throughout given the Tide's defensive inconsistencies.
Our Pick
No doubt the game of the week and the game of the year to date for college football. Would love to be able to tell you we love one side or another. But sports betting is all about numbers and the numbers aren't cooperating on this one.
Completely understand all of the early bettors grabbing +7 on Georgia and to a lesser extent +6. In fact, 90% of the games we play as Key Releases are underdogs. Nothing better than grabbing a bunch of points with a very good football team who can win a game outright.
However the further the line goes on any game, the more likely the other side starts to look attractive.
If -3 becomes available on Bama, we'd be interested in the Tide. By the same token, if we see +7's again on Georgia, we'd have a hard time resisting.