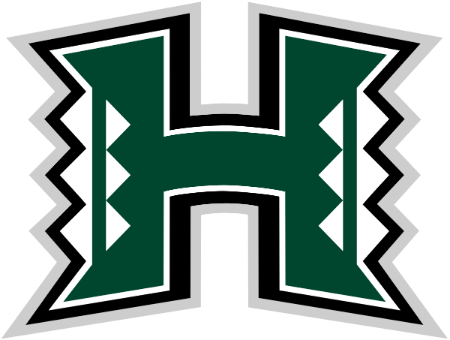 There are a lot of unknowns for Hawai'i in 2020. Despite coming off a 10-5 season, the Rainbow Warriors had to sign a new head coach in Todd Graham after Nick Rolovich left for the Pac-12.
Graham has a decent amount of experience after coaching at Arizona State for six seasons, but he doesn't get a full offseason with his team and hasn't coached the last two years.
That's why oddsmakers project them for near a .500 record with an over/under of 6 wins to go with +1600 odds to win the MWC.
There's little reason to look at last year's offensive numbers because Hawai'i has a new coach and a new quarterback. The group will be high-flying, but quarterback could be in flux with Chevan Cordeiro the expected starter after attempting 169 passes the last two seasons.
He at least has experience even if a lot of last year's numbers came against a bad SJSU team. Helping matters, the line returns four starters, which could turn into the best unit on the team.
Running back is also set as Miles Reed (908 yards, 8 TDs) returns to his lead role with Hekili Keliiliki likely to steal a few carries between the tackles.
Even though Jared Smart (1,129 yards, 5 TDs) is the lone starting receiver returning, the corps shouldn't be a major problem. Juco transfer Zion Bowens is expected to be a playmaker, while a slew of sophomores are set for bigger campaigns.
Defensively, it's a bit different. Partly because that's often been an issue for Hawai'i and partly because the new coordinators don't have a ton of experience.
Jacob Yoro has served in various defensive roles with the team the last few years, while Victor Santa Cruz comes over from DII program Azusa Pacific.
Again, this is going to take a lot of work. The defense at least returns six starters from a group that allowed 426.1 yards and 31.7 points per game. Whether that matters or not, remains to be seen.
Fortunately, a lot of those guys are seniors and there's at least one at every level. Tackle Blessman Ta'ala is a promising player as a junior, while senior Jeremiah Pritchard leads the middle of the field at linebacker. The secondary gets back three players with senior corner Cortez Davis the best of the bunch. 
Once again, the schedule gets started with a bang for Hawai'i, but this year will probably be a little more difficult than prior ones. Then again, Arizona is an annual favorite in its opening game and it rarely plays out that way.
Getting Air Force and Boise State early in the MWC schedule doesn't help, either. Fortunately, if the offense gels quickly under Graham, the defense may not matter, like previous seasons.
While there are some difficult games early, the Rainbow Warriors close with UNM, UNLV and SJSU (three of the worst teams in the conference) in three of their last four. Reaching six wins is possible because of schedule, but if they start slow, surpassing that number may be unlikely.
2020 Hawai'i Rainbow Warriors Schedule
Aug. 29 at Arizona (opening preseason line HAW +10.5)
Sept. 5 vs. UCLA
Sept. 12 vs. Fordham
Sept. 19 at Oregon
Oct. 3 vs. Nevada
Oct. 10 vs. New Mexico State
Oct. 17 at Air Force
Oct. 24 vs. Boise State
Oct. 31 at Fresno State
Nov. 7 vs. New Mexico
Nov. 14 vs. UNLV
Nov. 21 at San Jose State
Nov. 28 at San Diego State