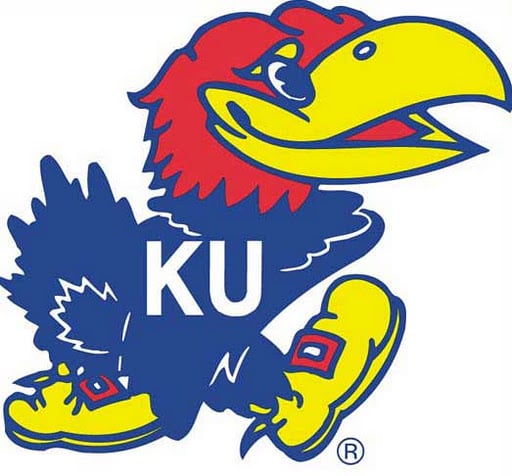 There were some positives in Kansas' first year under Les Miles, namely the wins against Boston College and Texas Tech.
Sure, it also lost to Coastal Carolina, but that's kind of the norm for this team. Unfortunately, nothing is expected to change in Year 2 as the Jayhawks had an early preseason over/under of 3.5 wins with +125 to 1 odds to win the Big 12.
Consistency Needed Offensively
The first step to improvement is finding consistency on the offensive side after averaging 375.4 yards and 23.5 points per game. Those averages aren't very good considering they reached at least 37 points two different times.
The problem is that quarterback will likely be undecided most of the season with Thomas MacVittie and Miles Kendrick only frontrunners because of the minimal experience they have. Without consistent quarterback play, it'll be hard for the offense to improve, especially with three new starters likely on the line.
Plenty of skill players return, but that may not matter if the quarterback and line don't figure things out. At the least, running back Pooka Williams is a playmaker after rushing for 1,042 yards and three touchdowns to go with 27 receptions last year.
While those numbers were worse than the prior campaign, it's hard to doubt a running back who has more than 2,000 rushing yards in his first two years. Throw in the return of top receivers Andrew Parchment (829 yards, 7 TDs) and Stephon Robinson (727 yards, 8 TDs) and the path is there for success.
Defense Gave up Almost 500 ypg
Unsurprisingly, the defense has similar issues after allowing 475.2 yards and 36.1 points per game. While some new blood could help, it's never easy replacing the majority of starters from a group that was already bad.
The hope is that the new starters can do more work in bigger roles. That means end Malcolm Lee and corner Kenny Logan, as well as linebackers Gavin Potter and Kyron Jhonson who combined for more than 100 tackles last season.
Even with some returning linebackers, the front end is mostly bare in terms of experience and while the secondary has guys like Elijah Jones, Kyle Mayberry and freshman Valerian Agbaw, they aren't considered pieces that will push them over the top.
Things Figure to Get Better
There is a path to three wins in non-conference play, assuming Kansas doesn't slip up against Coastal Carolina again. Sure, it's possible, but with BC coming to Lawrence this season, there's no reason at least three wins aren't possible.
If quarterback doesn't completely blow up in their faces, there's no reason the Jayhawks can't find another Big 12 win somewhere in the schedule. They were competitive in surprising situations last season and that could lead to one or two conference wins with the best opportunities coming against Texas Tech and TCU late in the season.
Les Miles has plenty of work to do, but if the offense can find its new quarterback, that'll at least be a start with the hope of more than three wins on the table even if that hasn't happened at KU since 2009.
2020 Kansas Jayhawks Schedule
Sept. 5 vs. New Hampshire
Sept. 12 at Baylor
Sept. 19 vs. Boston College
Sept. 26 at Coastal Carolina
Oct. 3 vs. Iowa State
Oct. 10 at Kansas State
Oct. 17 vs. Oklahoma State
Oct. 24 at West Virginia
Nov. 7 vs. Texas
Nov. 14 at Texas Tech
Nov. 21 at Oklahoma
Nov. 28 vs. TCU