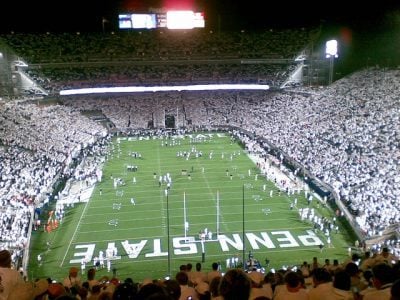 Penn State may be the only true threat to Ohio State in the Big Ten and it helps that the Buckeyes come to Happy Valley this season. Coming off an 11-win campaign, James Franklin and the Nittany Lions have their sights set on more, namely the Big Ten title.
Their early preseason over/under was at 9.5 wins with +50 to 1 odds to win the National Championship, as seen at 5Dimes, while their  6 to 1 odds to win the Big Ten were second best in the conference.
Offense Rolling
Penn State was forced to poach coordinator Kirk Ciarrocca from Minnesota, but he's unlikely to make a massive change to the offense that averaged 411.9 yards and 35.8 points per game.
That's because quarterback Sean Clifford is still running the show after averaging 8.3 yards per attempt for 23 touchdowns and seven interceptions, as well as 402 rushing yards and five more touchdowns.
His return is the main reason the Nittany Lions are expected to fight in the Big Ten and have an advantage over teams like Michigan. Throw in an experienced line that loses one starter and there's a chance this offense displays a little more potency.
The main question is who will step up at receiver with Jahan Dotson (488 yards, 5 TDs) the lone wide out with much experience. Tight end Pat Freiermuth (507 yards, 7 TDs) helps, but Clifford needs a No. 2 receiver.
Fortunately, the backfield doesn't have the same issue because Journey Brown (890 yards, 12 TDs) and Noah Cain (443 yards, 8 TDs) will again take most of the work.
Defense Decent
Penn State's defense was good but not great last season which is why it fell to Minnesota and almost let the Indiana game slip away. With starters leaving at every level from a group that allowed 330.2 yards and 14.1 points per game, it's unlikely they'll improve.
Either way, there is enough talent that this group won't have a major drop off. Senior Shaka Toney is a force on the end while All-American linebacker Micah Parsons (109 tackles) will again run the show.
The question is if the secondary can improve after being the main weakness last season. Senior corner Tariq Castro-Fields and senior safety Lamont Wade are good pieces to build on, but filling the spots around them will be important.
Schedule More Difficult 
While Penn State's over/under was sitting at 9.5 wins with early money on the over, it's important to note its schedule is more difficult than last season. In addition to travelling to Virginia Tech in the non conference, the Nittany Lions draw Iowa and Nebraska in cross-division play.
They're only supposed to lose two games according to the odds, yet slipping up at VT is possible, which comes in addition to a game at Michigan and home against Ohio State.
On one end, the offensive experience will be a nice boost to the team, but if the defense takes a step back with a more difficult schedule, betting on the Lions to hit 10 wins is a stretch. They can do it, but it'll undoubtedly take more than last season's performance.
2020 Penn State Nittany Lions Schedule
Sept. 5 vs. Kent State
Sept. 12 at Virginia Tech (early preseason line PSU -5.5)
Sept. 19 vs. San Jose State
Sept. 26 vs. Northwestern
Oct. 3 at Michigan (PSU +1.5)
Oct. 17 vs. Iowa
Oct. 24 vs. Ohio State (PSU +6.5)
Oct. 31 at Indiana
Nov. 7 at Nebraska
Nov. 14 vs. Michigan State
Nov. 21 vs. Maryland
Nov. 28 at Rutgers