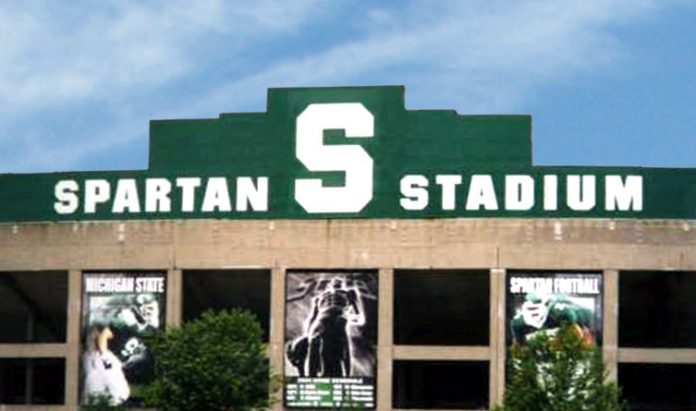 The writing was on the wall for Mark Dantonio after another down campaign and Michigan State eventually turned to former Colorado head coach Mel Tucker.
The new man in charge has a lot of work to do, mainly because of a brutal 2020 schedule and a lack of a true offseason. The Spartans had an early preseason over/under of 5 wins to go with +50 to 1 odds to win the Big Ten, near the bottom of the standings.
New Coach – New Coordinator – New QB
The big thing for MSU is to get its offense going after averaging 371.9 yards and 22.4 points per game. In addition to a new coordinator in Jay Johnson, the Spartans have to find a new quarterback.
Rocky Lombardi may have the most experience, but he attempted just 21 passes last season in a backup role. He'll have to fight off younger options like Theo Day and Payton Thorne.
Either way, the line has to stay healthy and be better than a year ago. Center Matt Allen helps, but the pieces around him are questionable given last year's struggles.
The line paved the way for 3.5 yards per carry and it'll be important to get that number a little higher for running back Elijah Collins (988 yards, 5 TDs), who may have been the lone bright spot in the offense last season.
The question is how the passing game looks with a new quarterback and new set of receivers. Jalen Nailor (15 receptions) is set to be the top guy with others like Tre Mosley and Jayden Reed expected to step into bigger roles.
Spartan Defense Should Remain Solid
The one thing Dantonio teams provided was a consistent, solid defense, which was the case last year when MSU allowed 319.2 yards and 22.7 points per game.
New coordinator Scottie Hazelton has a solid pedigree, most recently coming from Kansas State and Wyoming. 
Half of the defensive starters are gone, but Hazelton has plenty to work with at every level in his first year. End Jacub Panasiuk and tackle Naquan Jones form a nice base on the line, while Antjuan Simmons is a stud linebacker for the Spartans.
The secondary has some holes, but also some experience in safety Xavier Henderson and corner Shakur Brown. There may be some new starters, but it's hard to ignore the success this group has had over the years.
Expect a Down Year for Spartans
There are new coaches at Michigan State, but a lot of position coaches were retained, so that defensive identity will still be there. The problem for Michigan State will be its schedule which features a cross-division trip to Iowa in addition to the bloodbath of Michigan, Ohio State and Penn State.
At the least, the Spartans have a lot of winnable games if Tucker can get them ready from the start. They open with a home game against Northwestern and every non-conference matchup is winnable.
Of course, all of them could be losses, as well, if quarterback isn't figured out in the first month of the season. Reaching five or six wins is definitely possible, but it may require three wins in the first month and that's not easy to bet on given a new coach in a limited offseason of work.
2020 Michigan State Spartans Schedule
Sept. 5 vs. Northwestern
Sept. 12 at BYU
Sept. 19 vs. Toledo
Sept. 26 vs. Miami FL (early preseason line MSU +1.5)
Oct. 3 at Iowa
Oct. 10 vs. Michigan
Oct. 17 vs. Ohio State
Oct. 24 at Indiana
Oct. 31 vs. Minnesota
Nov. 14 at Penn State
Nov. 21 vs. Rutgers
Nov. 28 at Maryland