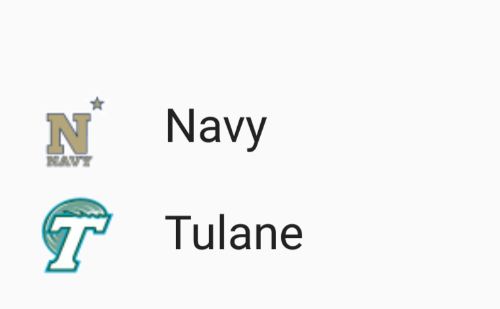 The biggest thing the first couple weeks of college football have shown is that we don't know anything and nothing is guaranteed.
Navy found that out in its first game, a 55-3 drubbing by BYU despite the spread being roughly a pick 'em. The Midshipmen get almost two weeks to recover from that opener and get a beatable Tulane squad. Even then, the Green Wave opened as a -8 point favorite with an over/under of 49.
Last Year Was a 3 Point Game
That's partly because even in the midst of a good Navy season, the Mids still struggled to put away the Green Wave in last year's meeting. Even after going up 21-0 in the first quarter, Tulane battled back only to lose on a last-second field goal in a 41-38 result. It was a matchup that lacked defense as Tulane had 477 total yards and Navy mustered 385 rushing yards. 
While defense could still be an issue for both teams, the bigger question comes offensively where each side has a new quarterback. That was an immediate problem for the Mids in their opener as neither Dalen Morris nor Perry Olsen could do anything against BYU.
They ran for 119 yards as a team with two of their 39 rushes going for 64 yards. Navy should be better in this matchup, but similar to two years ago when they didn't know what to do at quarterback, it could be a long season, and the lack of a true offseason clearly didn't help.
While tailbacks Jamale Carothers and Nelson Smith have experience in the triple-option, that doesn't matter if the quarterback doesn't make the correct decisions.
Tulane Run "D" in For Challenge
Tulane's opener wasn't easy, but it still managed to beat South Alabama 27-24. Most relevant for this matchup is that it held USA to just 78 rushing yards on 2.2 yards per carry.
If that rush defense shows up again, it's the perfect recipe for a win. Of course, playing South Alabama and the Navy triple-option are completely different things. Not to mention, the massive rushing success that Navy had when these teams met a year ago.
The other side of the ball is where Tulane could win this game, mostly because of how bad Navy's defense was against BYU, allowing 279 passing yards and 301 rushing yards.
The Green Wave will likely lean on that ground game after quarterback Keon Howard struggled in the opener, completing 14-of-30 passes for 190 yards and no touchdowns (or interceptions).
They'll likely lean on the trio of backs in Tyjae Spears, Amare Jones and Cameron Carroll, as well as Howard who ran for a touchdown and 26 yards in the opener.
Not many will want to touch Navy after its opener, but with a few more days of rest and more practice, it wouldn't be surprising if things went a bit differently against a weaker opponent. Plus, you get them as a full touchdown underdog.
The positive for Tulane is that it challenged Navy at its peak last season. In what looks to be a down year for the Mids, this is a perfect spot for the Wave to grab a win in their AAC opener.
Our Pick
As of late Tuesday Navy is drawing most of the betting action. Apparently, bettors aren't looking at last weeks results as a deterrent. The board shows a mix of -7's and -7.5's.
Using data from last year our model sees this game as a toss up. We have to agree with both the model and the betting public. We'd be shocked if we didn't see drastic improvement this week with Navy and fully expect this game to be tight in the 4th quarter. Navy +7.5