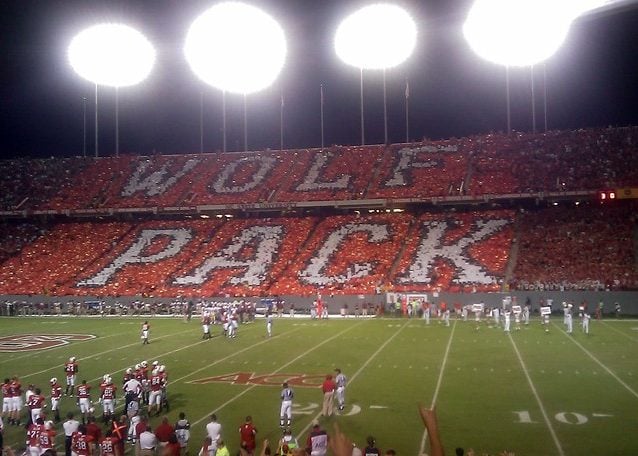 NC State took a major step back last year, finishing 4-8 after losing the final six, most of them by wide margins. That's why head coach Dave Doeren decided to mix things up and get new coaches on both sides of the ball.
Expectations are still pretty down as the Wolfpack had an early preseason over/under of 5 wins with +500 to 1 (betonline) odds to win the National Championship, placing them near the bottom of the ACC Atlantic.
New Offensive Coordinator
The hope for the offense is that new coordinator Tim Beck turns things around after he spent three years at Texas. That shouldn't be too difficult after quarterback issues led to a miserable 22.1 points scored per game last year.
While quarterback will likely be a revolving door again without a real preseason, the guys in question at least have experience. Devin Leary has the leg up after taking over halfway through last year en route to 5.8 yards per attempt and a 48.1% completion percentage.
While quarterback is a question, running back is set between Zonovan Knight (745 yards, 5 TDs), Jordan Houston and Ricky Person Jr., who returns from an ankle injury. Devin Carter looks set to take over as the top receiver with tight end Cary Angeline (5 TDs) also in the mix. Throw in four returning linemen and Beck at least has experience to get this group going.
Getting massive improvement will be difficult, but add a few points to the average and NC State should be more competitive.
Defense Gave Up 400 Yards Per Game
To win more games, the defense will also need to improve after allowing almost 400 yards and 30.1 points per game. 
Similar to the offense, a lot of players return, especially ones who picked up injuries last season. There's also some optimism because Tony Gibson takes over as the lone coordinator after coaching with Dave Huxtable last year.
Linebacker is stocked with experience in the two-deep led by Isaiah Moore and Payton Wilson. On the line, Alim McNeil looks set to be a force, while the secondary gets back numerous injured players from last year to go with the underclassmen who took over in their place.
Could Be A 0-3 Start
Given the weird offseason, it'll be hard to show much improvement from last year, but if Leary takes another step, NC State should at least have something going in its favor.
The problem is an early schedule that features two of three on the road and then a home game against Miss. State. If the Wolfpack don't get their offense figured out, that could be three-straight losses to open the campaign.
Trips to Clemson and UNC don't help, but if they steal a win from one of those first games and then win home contests when they're supposed to, reaching six wins wouldn't be surprising.
The Wolfpack have the talent and experience to improve, and in the ACC, that could be enough to reach a bowl game.
2020 North Carolina State Wolfpack Schedule
Sept. 3 at Louisville
Sept. 12 vs. Mississippi State
Sept. 19 at Troy
Sept. 26 vs. Delaware
Oct. 3 vs. Florida State
Oct. 10 vs. Duke
Oct. 17 at Clemson
Oct. 31 vs. Wake Forest
Nov. 7 vs. Boston College
Nov. 14 at Syracuse
Nov. 21 vs. Liberty
Nov. 27 at North Carolina