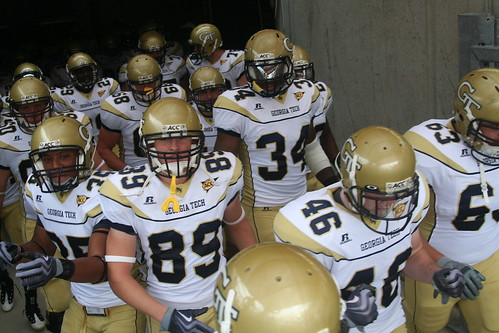 Entering the second year under Geoff Collins, Georgia Tech is again expected to struggle and finish near the bottom of the ACC standings. Moving away from the triple option takes time and it doesn't help that the Yellow Jackets have a brutal 2020 schedule.
While they had three wins last year, their early preseason over/under for the upcoming campaign was set at 2.5 wins at most sites.
Process of new Offense Continues 
The biggest factor remains improving on the offensive end in a new spread system. As expected, it was a process last year as Georgia Tech averaged 286.3 yards and 16.7 points per game.
There were signs of improvement, but consistency was a major issue and could again be with quarterback questions.
The lack of a real spring doesn't help and while quarterback James Graham is back, he'll receive competition from a few players and there's no telling who will win the job after he completed 45.1% of his passes last year.
Maybe the best news is that the line should be better with just one regular starter gone and some high-level transfers also in the mix.
They won't make the quarterback better, but it'll undoubtedly help the offense improve, especially with running back Jordan Mason still around after rushing for a solid 899 yards and seven touchdowns on 5.2 yards per carry. 
Defense Terrible in 2019
While it'll be tough for the offense not to improve, the defense also has some work to do after allowing 422.9 yards and 32.4 points per game. Those numbers would probably look better if you took away big losses to Clemson and Georgia, but it's not like the schedule is changing this year.
Improvement has to start up front after the Jackets gave up 4.8 yards per carry and more than 215 rushing yards per game. At the least, they don't lose much on this side of the ball, so they should get better.
Tackle Jahaziel Lee is back from injury, while end Antonneous Clayton and linebacker David Curry return for another year. It's the same case in the secondary with corner Tre Swilling and safety Juanyeh Thomas, among others.
This group wasn't good last year, but if they can stay healthy and improve during the weird offseason, there's hope for better numbers.
Tough Schedule – The Struggle Will Continue
The problem for the Yellow Jackets is that it's another brutal schedule that features Clemson, UCF, Notre Dame and Georgia. It doesn't help that in the middle of the season they get a stretch of four road trips in five games, none of them against the previously mentioned opponents.
To reach three wins, they'll likely need to win home games against Virginia, Duke or Miami in ACC play to go with the early contest against Gardner-Webb.
The possibilities are there for GT, especially after what they showed late last year, and better quarterback play could be the boost needed to get to three or even four wins.
2020 Georgia Tech Yellow Jackets Schedule
Sept. 3 vs. Clemson (early preseason line GT +26)
Sept. 12 vs. Gardner-Webb
Sept. 18 vs. UCF
Sept. 26 at North Carolina
Oct. 3 at Virginia Tech
Oct. 17 vs. Virginia
Oct. 24 at Pittsburgh
Oct. 31 at Syracuse
Nov. 7 vs. Duke
Nov. 14 vs. Notre Dame
Nov. 21 vs. Miami (FL)
Nov. 28 at Georgia