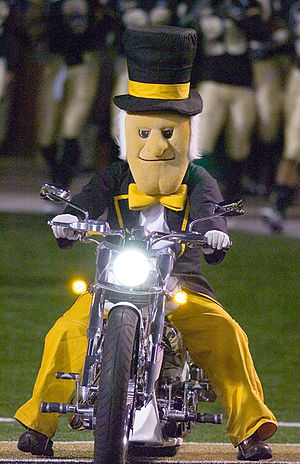 Notre Dame is enjoying life in the ACC, sitting next to Clemson and Miami in the standings, coming off a 52-0 win.
The Fighting Irish haven't really been challenged in their first two games and that's unlikely to change in coming weeks. They opened as -18 point road favorites against Wake Forest with an over/under of 58 at betonline and GTBets.
After a somewhat slow start against Duke in the opener, Notre Dame put everything together against USF last week. The ground game was unstoppable and the defense held a mediocre offense scoreless.
Wake Forest Weak on "D"
It's been kind of the opposite for Wake Forest, who can't seem to stop anyone on the defensive side coming off a 45-42 loss against NC State.
The Demon Deacons may eventually have one of the better offenses in the conference, but their defense will continue to hold them back.
That's where Notre Dame's ground game comes in which should dominate this matchup. The Irish are averaging 5.3 yards per carry as a team, led by a trio of backs who all did work against USF last week.
Kyren Williams was the guy against Duke, but C'Bo Flemister and Chris Tyree added another element against USF and that may be all that's needed in this game because Wake just gave up 270 rushing yards on 5.5 yards per carry to NC State.
Irish Look to Top 40+
It could be a similar offensive result for Notre Dame because its offense may be a step above that of NC State. Throw in quarterback Ian Book, who hasn't been needed through the first two games, and the Irish should be set for at least 40 points.
There may eventually be questions about Book's options in the receiving game, but that probably won't matter just yet. As long as the ground game goes for 200-plus yards, Book won't have to do much.
The other side of the ball also presents problems for the underdog. Despite having a potent offense, the line hasn't held up against two of the best defensive fonts in the ACC.
Hartman Gets No protection
Quarterback Sam Hartman has been sacked 10 times and that's dropped their team rushing numbers to 2.2 yards per carry. Running back Kenneth Walker ran for 131 yards and three touchdowns last week, but it still wasn't enough to get the win.
It's been hard to get a good read on Hartman, especially since the opener was against Clemson. He should be in for a good season in this offense, but he's averaging 7.3 yards per attempt and this matchup isn't expected to be any easier.
Notre Dame held a high-power USF rushing attack to 3.2 yards per carry last week and has allowed 13 points through two games. This group was improved last year and it looks like they'll again be one of the better units in the country, albeit likely a level below Clemson.
In order to cover, Wake's offense will have to show up, more than it did in the opener against Clemson. If the Deacons can reach 20 points, they'll at least have a chance, but with their troubling defense, the Irish are headed for another 40-plus points.
Our Pick 
The line, both side and total is right where we figured it would be. These two have played 5 times with the average score being 39-18 in favor of Notre Dame.
There's an obvious class difference between these two, though Wake Forest did come within 11 in 2017, losing a 48-37 decision.
But Wake Forest did hang 42 on the board last week and that, combined with Notre Dame having difficulty putting Duke away in week 1 gives hope to the Demon Deacons chances of covering this big spot.
Wake Forest +19 (maybe higher by Sat)