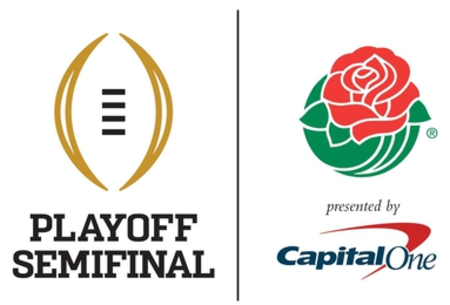 Notre Dame got a taste of its own medicine in the ACC Championship Game and more of that medicine could be on the way against Alabama.
Similar to two years ago, no one is expecting the Fighting Irish to put up a fight, as the Crimson Tide were early -19.5 point favorites with an over/under of 65.5 for the Rose Bowl game being played at AT&T Stadium in Arlington, Texas.
Notre Dame was in a similar spot two years ago when it finished the regular season at 12-0 and then got clobbered by Clemson in the semi-finals, a 30-3 loss.
While Notre Dame has had a nice season, it's hard to think they'll have a shot in this game, especially after losing to Clemson 34-10 in the ACC title game.
The Irish were once thought to have one of the best offensive and defensive lines in the country and then Clemson dispatched those thoughts.
Can the Irish Defense Hold Up?
The question for this matchup is what the Irish defense can do, allowing a solid 18.6 points per game, though a lot of that is likely because of a mediocre ACC schedule.
They had trouble stopping Clemson in both matchups and maybe their most impressive performance came in the 31-17 win against UNC.
The problem is that Alabama may have a better offense than Clemson's, averaging 49.7 points per game. The Tide have done whatever they wanted against every SEC defense.
Quarterback Mac Jones is in the Heisman hunt after an almost perfect season, averaging 11.4 yards per attempt on 76.5% completion with 32 touchdowns and four interceptions.
Top receiver DeVonta Smith has been unstoppable with 1,511 yards and 17 touchdowns, while John Metchie and a slew of other guys will step up when needed.
Still, the biggest part to Bama's offense may be that it can also run the ball on anyone, as Najee Harris is averaging 5.9 yards per carry for 1,262 yards and 24 touchdowns, along with 32 receptions and 316 more yards.
Irish Pass Defense Questionable 
Notre Dame has a great rush defense, but its pass defense hasn't been enough against better offenses and that could be the case in this one.
To have a chance, Notre Dame's offense will need to step up, something that didn't happen in the loss to Clemson. As long as they can run the ball, they'll be fine, but if not, it'll be on Ian Book, who isn't known as a guy who will throw for 400 yards and five touchdowns.
For the season, he has 15 touchdowns and two interceptions on 8.3 yards per pass, which is solid but not outstanding. That's because the Irish focus on the ground game with Kyren Williams at 1,061 yards and 12 touchdowns, while Book also has 430 rushing yards.
Irish Need to Run
If Notre Dame can run the ball, they should be competitive, but if it's a repeat of the Clemson matchup, there's no chance.
The Tide don't have an elite defense, as seen when they gave up 46 points to Florida last game, but they're barely allowing 100 rushing yards per contest and with a couple weeks of preparation, it's likely they'll focus on stopping the run.
Notre Dame has been near the top of the rankings all season, but it's still hard to bet against Alabama no matter the opponent. The Fighting Irish are 3-7 ATS in their last 10 bowls as an underdog, while the Crimson Tide are 7-1 ATS in their last eight games overall.
Our Pick
When you read this part of the article, it may seem as though you are reading two different articles. That's because, you are.
Often times, the author of the article is different than the author the the picks on bettorsworld. The article itself deals with the teams strengths and weaknesses in general. The pick part of the article deal strictly with the betting aspects of the game.
With that in mind……
We're going to give Notre Dame a pass for the second Clemson game. It's extremely difficult to beat a very good team twice in one season. Essentially, that game was lost before it was ever played. A 3rd game would likely be very different.
We're also well aware of the fact that Notre Dame has come up flat in these big games several times. They lost playoff games to Alabama and Clemson by a combined score of 72-17. They have appeared in 6 BCS or New Years 6 Bowl games since 1998 and are 0-6 in those games losing by at least 14 points in every one.
But this is a good Notre Dame team that has a legitimate defense to go along with an offense that has the ability to move the chains with 3 big tight ends, a mobile QB and an excellent running game.
The Irish had over 500 yards of offense against Clemson in their first game. Their defense was able to hold a North Carolina team that lit up scoreboards all year long to just 17 points.
Florida and Ole Miss hung 46 and 48 points on the Tide. Teams can move the ball on Alabama.
A more likely scenario here would be to see this game play out similar to Alabama vs. Georgia. Georgia led that game 24-20 at the half but the tide scored 21 unanswered points in the 2nd half for a 41-24 win. Georgia had over 400 yards of total offense.
We've got 3 plays for this game.
Notre Dame +7 for the 1st quarter
Notre Dame +11 for the first half
Notre Dame +21 -115 (MyBookie has -20.5 -105 as of this writing, so we bought the half point) Keep an eye out for natural +21's.